Underwater Technology
SUT/MTS Journal
Sadly, our peer-reviewed journal, Underwater Technology is no longer in production and we are not accepting submissions. Previous issues of Underwater Technology are still available to view here. Please watch this space as Underwater Technology may yet return in the future.
In the meantime, however, we have joined forces with our friends at the Marine Technology Society (MTS) and SUT members will now be able to access and submit papers to their journal.
The Marine Technology Society Journal is a peer-reviewed bi-monthly publication of the Marine Technology Society. Papers regarding original and significant findings in the field of marine technology and ocean engineering are particularly encouraged. Technical and scientific papers and notes, and commentaries on ocean policy, law, economic—and especially those dealing with scientific and technical aspects of the ocean—are solicited for the Journal.
The Marine Technology Society Journal publishes the following categories of submissions:
Technical/Scientific Paper
Technical/Scientific Note
Commentary
Book Reviews
Managing Editor: Amy Morgante at morganteeditorial@gmail.com.
For more information about the MTS Journal please click here and for the paper submission process please click here.
Past issues of the MTS Journal can be accessed here. SUT Members will be given access to new issues of the MTS Journal when they are published. Find past issues of the MTS Journal in your SUT Members Area.
For further information, contact Emily Boddy at emily.boddy@sut.org.
---
Underwater Technology
ISSN 1756 0543 (Print)
ISSN 1756 0551 (Online)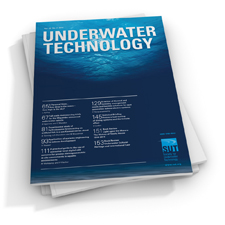 Underwater Technology was the peer-reviewed international journal of the Society for Underwater Technology. The objectives of the journal were to inform and acquaint the Society's members and other readers with current views and new developments in the broad areas of underwater technology, ocean science and offshore engineering.
Online Open Access
Underwater Technology is available online as Open Access.
To read more about Underwater Technology and Open Access, please see the following article Open Access to Underwater Technology.
To view full articles online, please visit
http://www.ingentaconnect.com/content/sut/unwt
Please click to view the latest issue of Underwater Technology on Issuu.com.
Most Cited Papers:
Authors: Szyrowski, Tomasz; Sharma, Sanjay K; Sutton, Robert; Kennedy, Gareth A
Vol 31 No 3, pp. 123-132
Authors: Szyrowski, Tomasz; Sharma, Sanjay K; Sutton, Robert; Kennedy, Gareth A
Vol 31 No 3, pp. 133-143

Most Downloaded Paper:
Authors: Sgarioto, Daniel; Madden, Christopher
Vol 32 No 2, pp. 67-79