Back to Full List
The Operation of Autonomous Underwater Vehicles Series, Volume 1 (second edition)
£75.00 +Shipping
To purchase the book, please select your shipping option.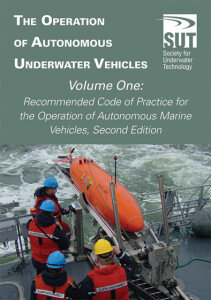 *All three Volumes can be purchased together for £165
Volume One: Recommended Code of Practice, Second Edition
By C Carleton, C Fay, G Griffeiths, A Holt, R Rogers and A Tonge; edited by JC Dering
ISBN 0 906940 51 6, ISBN–13 978 0 906940 51 8
Paperback, 78pp, 2009
Order Reference C40,  Price Non-member £75, Members £67.50
This is the first update to the pioneering The Operation of Autonomous Underwater Vehicles, Volume One: Recommended Code of Practice, published in 2000. Since then, a great deal of experience has been gained in the operation of these vehicles, and related matters – such as insurance and the legal aspects – informs this update. Since any AUV will spend time on the surface, the ambit of this code has been extended to include this, and the vehicles are now classified as autonomous marine vehicles (AMV). It is intended that this code will be widely taken up by the industry, and the relevant parts will eventually be incorporated in international maritime law.
This AMV CoP has been written as a voluntary code that the SUT endorses for adoption by the AMV community. It is a non–legal document which encapsulates the combined experience of the members of the AUVLWG, spanning most – if not all – aspects of civil and military AMVs and should be regarded as a guide, based on best practice, to the issues to be considered in the design, build, and operation of an AMV. The code is primarily aimed at the users, designers, researchers, and manufacturers of AMV systems in the United Kingdom. Though the CoP is focused on the UK, it is believed by both the AUVLWG and the SUT that it could be used as a basis of a codified procedure to be adopted by the international AMV community.