Webinars
Since April 2020 we have been holding free webinars, online events, and seminars to keep you connected to the world of underwater technology.
You can view these by clicking below or find even more SUT videos and online content on our YouTube page SUT Media.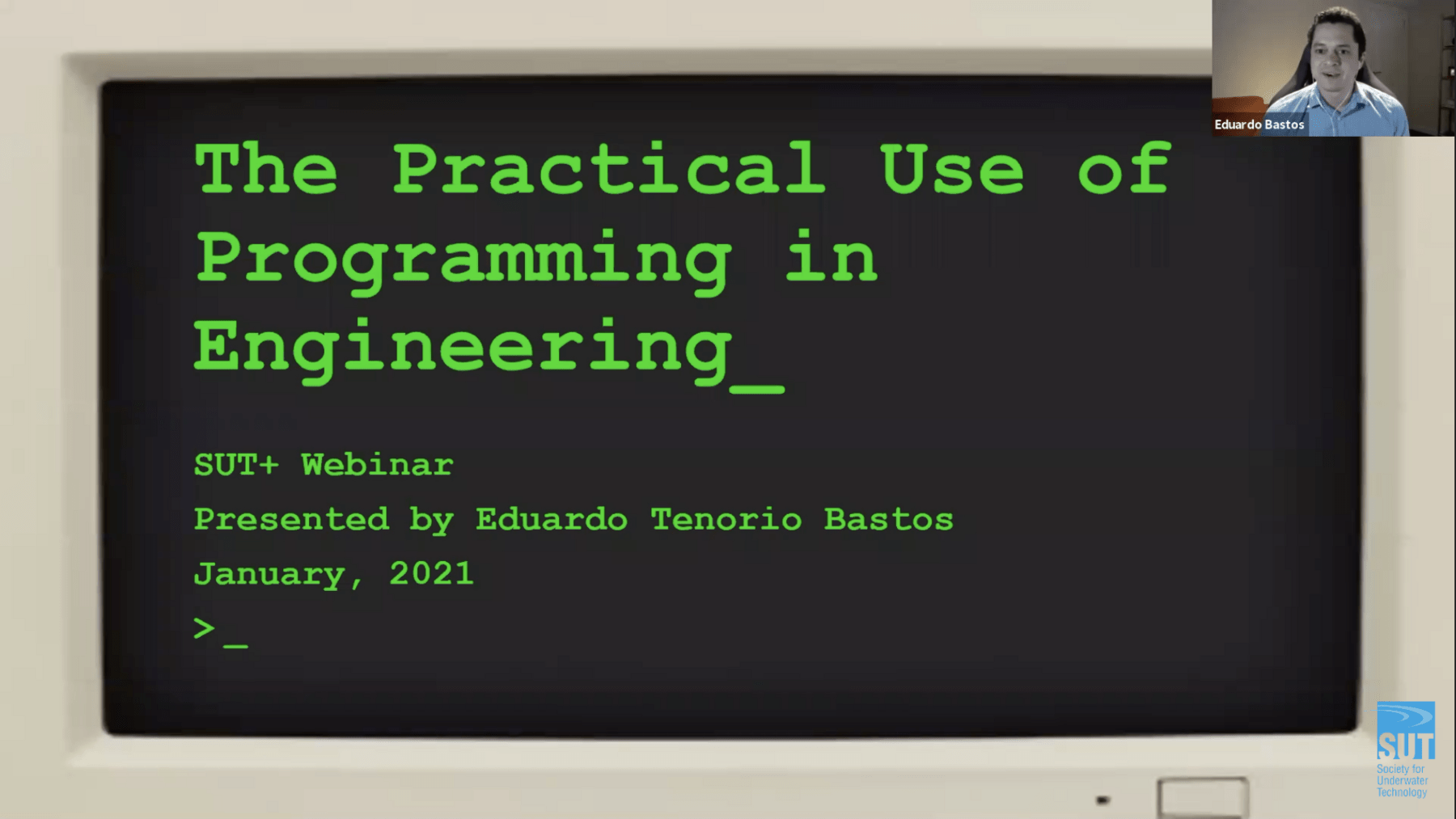 18 January 2021 – The Practical use of Programming in Engineering
Presented by Eduardo Tenorio Bastos, Senior Structural Engineer at Wood.
The daily routine of an engineer is very often full of repetitive tasks and a large amount of data to deal with. The knowledge of a programming language, which used to be only a competitive edge, is becoming more and more a requirement. This presentation aims to showcase some tips and tricks as well as practical examples of the use of programming in engineering everyday life.
---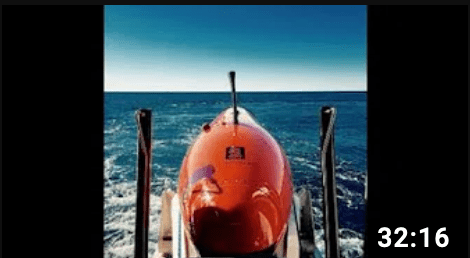 30 November 2020 – AUVs – How autonomous do they need to be?
Richard Mills, Kongsberg Maritime, will talk about his work starting in the subsea industry at ISE after a career in military aviation, the general history of AUVs, the HUGIN system, and future AUV plans.
.
---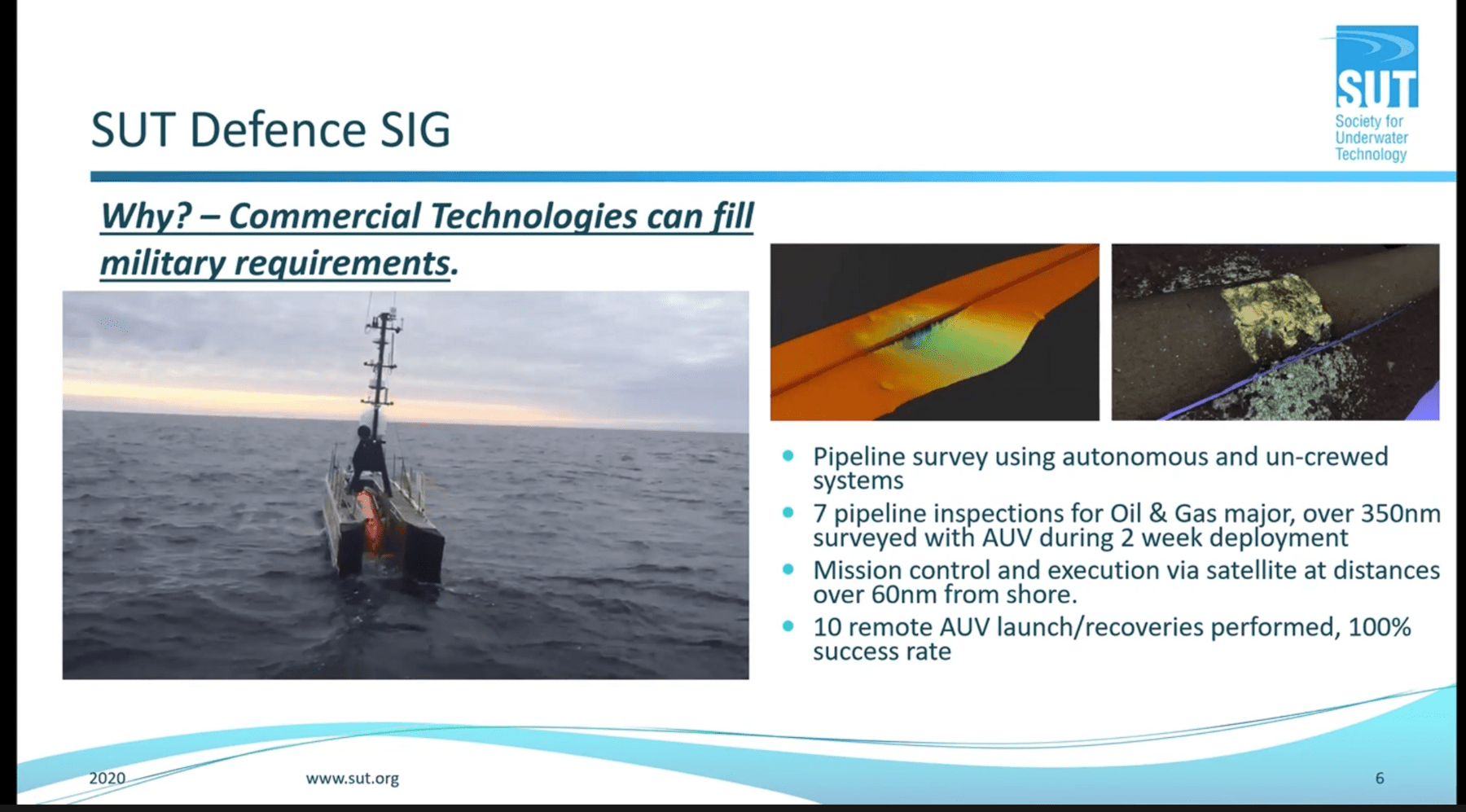 16 November 2020 – The SUT's Defence Special Interest Group
Nick Swift, Chair of SUT's Defence Special Interest Group, gives an introduction to the work of the Group and goes through some of the technology challenges & opportunities that autonomous systems and advanced sensors present in the subsea defence sector, including the need to bring the policy space up to date.
.
---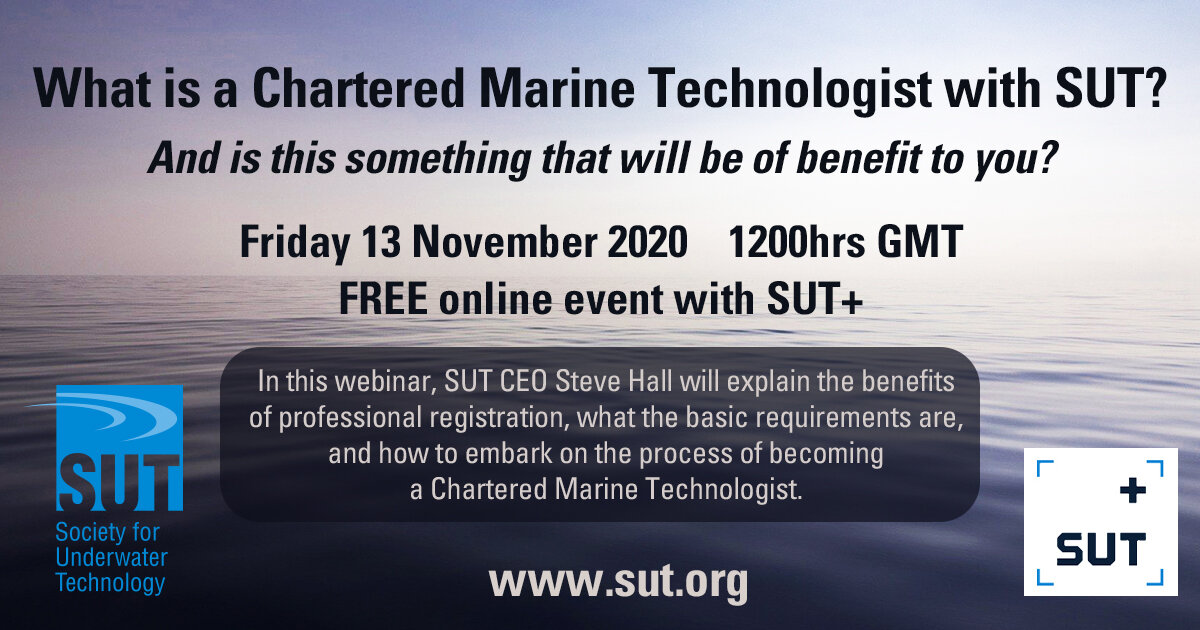 13 November 2020 – SUT+ What is a Chartered Marine Technologist with SUT, and is this something that will be of benefit to you?
SUT is licensing the ability to offer registered Professional status as Chartered Marine Technologists for individuals who satisfy the relevant academic and experience requirements, from the Institute of Marine Engineering, Science & Technology (IMarEST).
---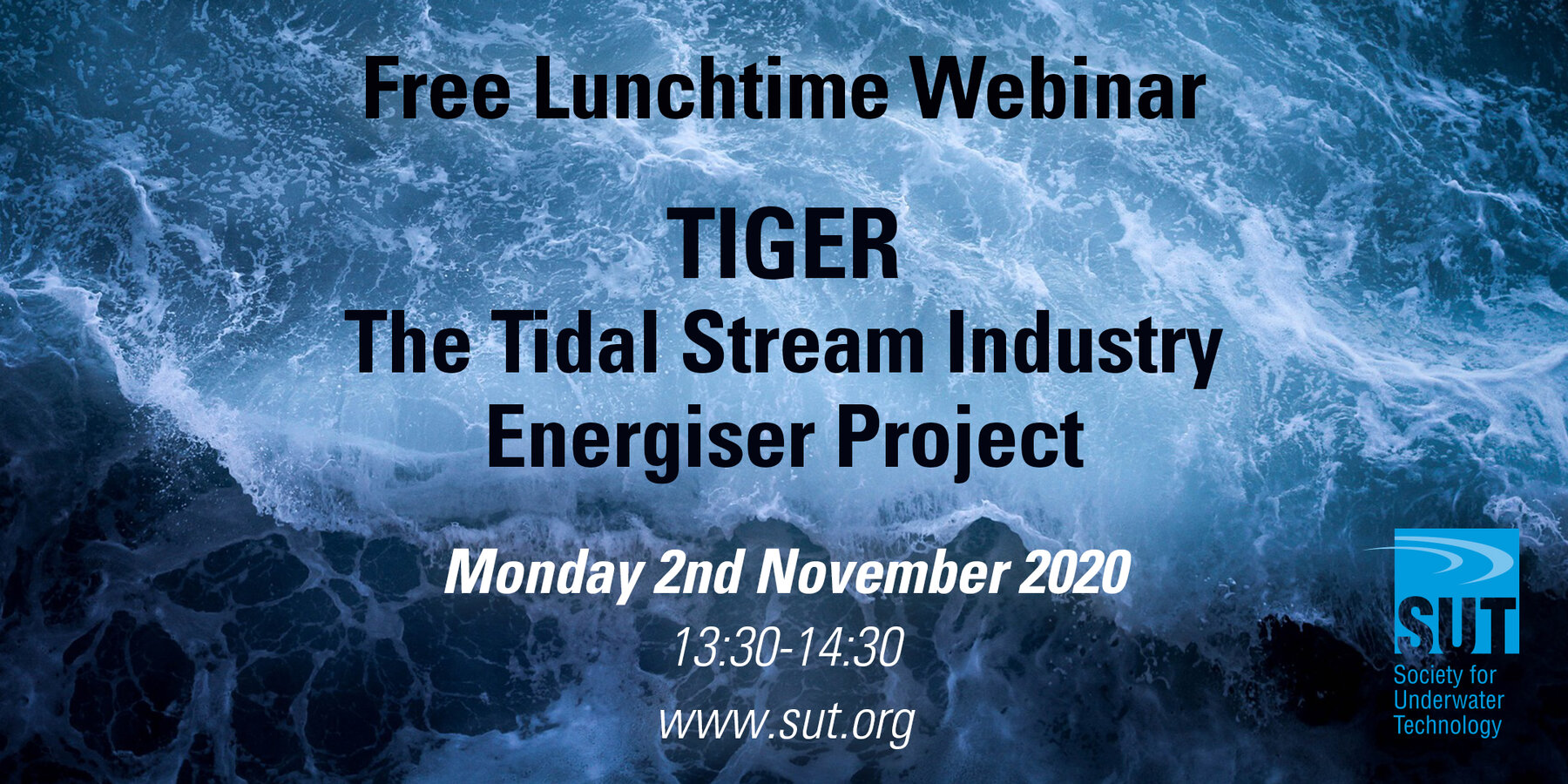 2 November 2020 – TIGER – The Tidal Stream Industry Energiser Project
Robbie Brady from the UK Offshore Renewables Catapult and Danny Coles of Plymouth University talk about TIGER – the Tidal stream Industry energiser project.
.
---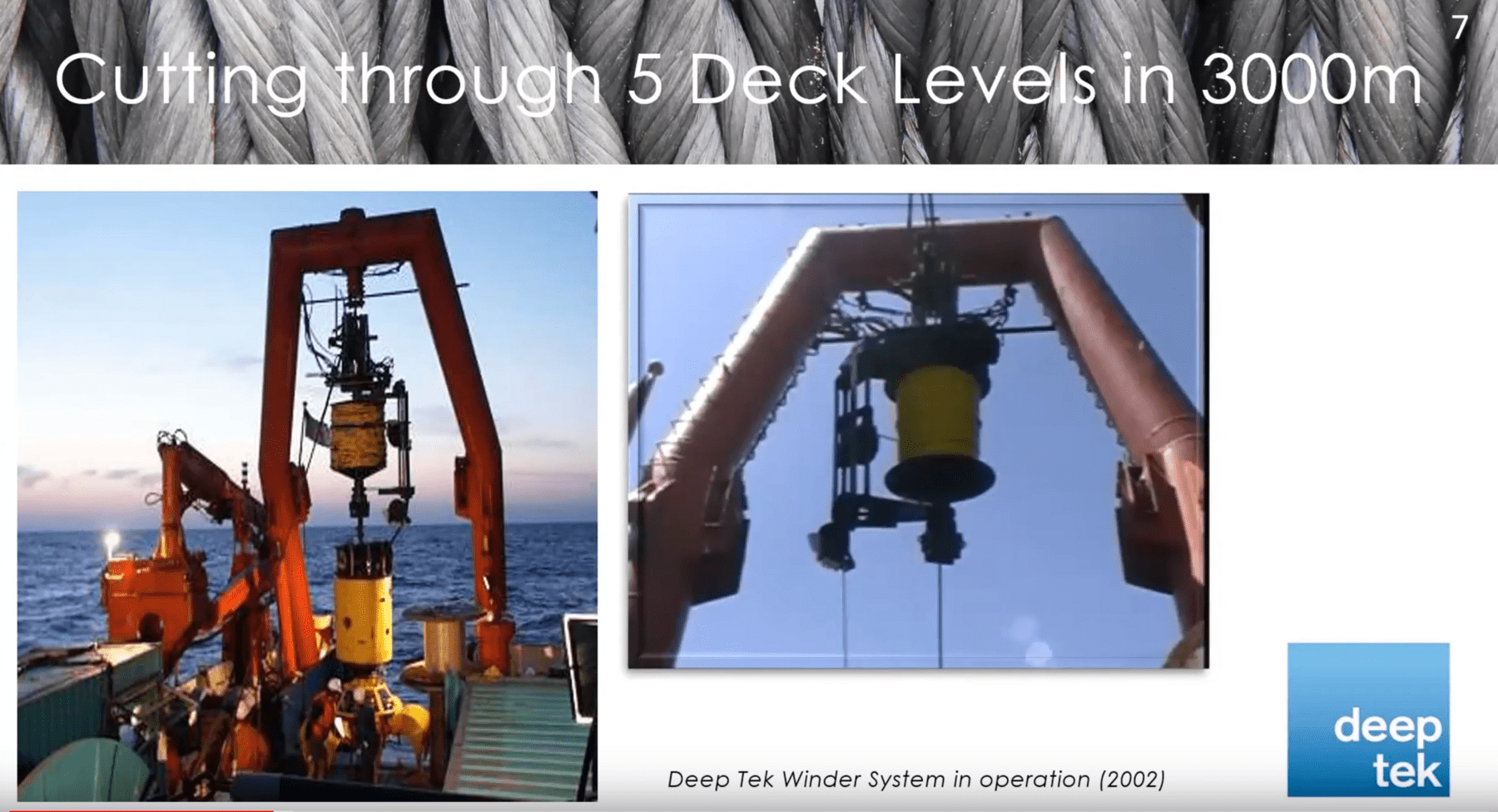 19 October 2020 – Salvage, Underwater Demolition, and Oil & Wreck Removal
How principles-based thinking, innovation, and digital technologies have achieved success from 'hard aground' to 3000 metres of water. Presented by Moya Crawford, Joel Mills, and Mark Lawrence.
.
---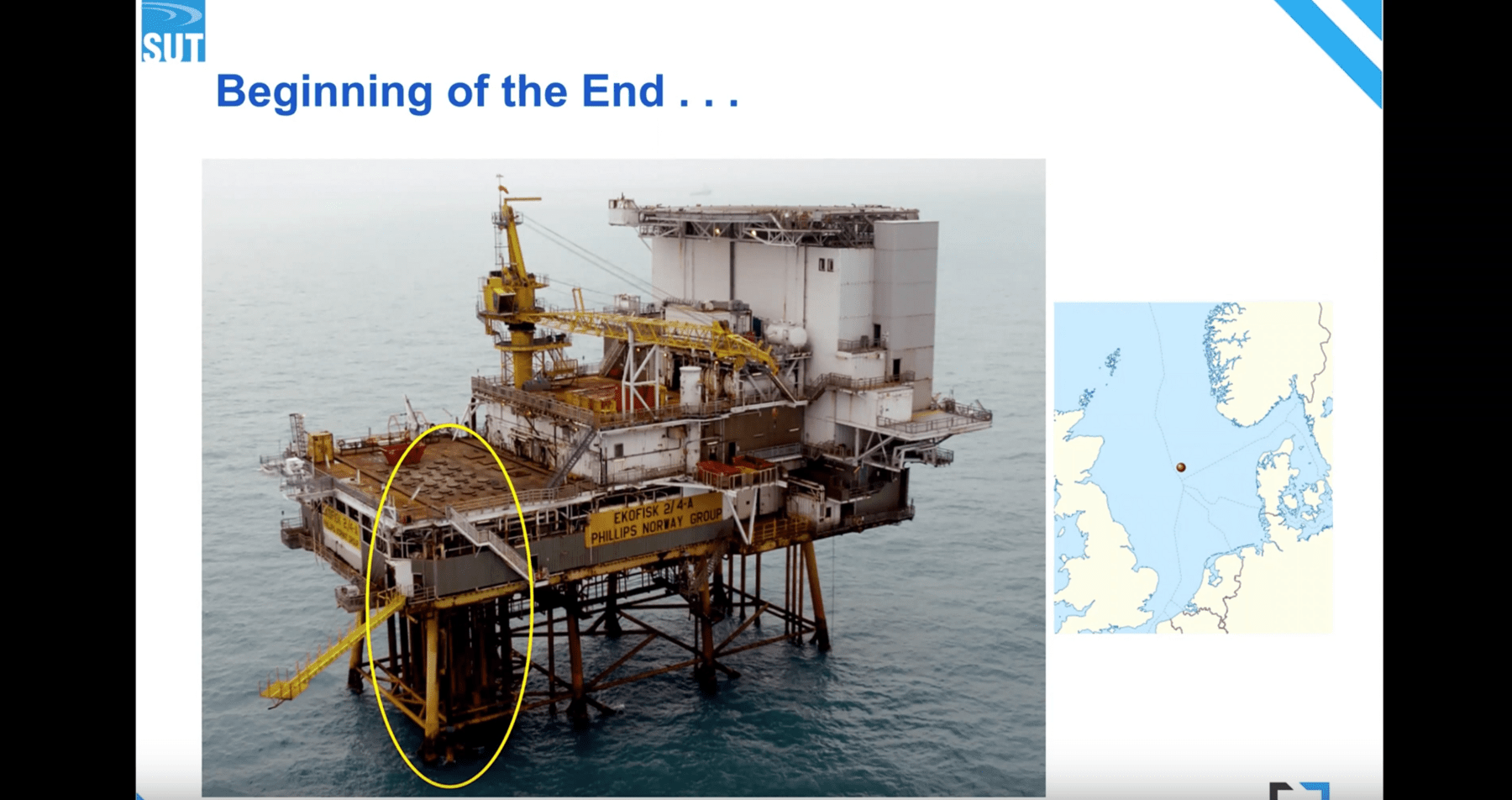 5 October 2020 – Well Plugging & Abandonment
Alasdair Brown and Dr Yuejin Luo of Charles Taylor PLC gives a talk about the latest developments in offshore oil and gas well plugging and abandonment.
.
---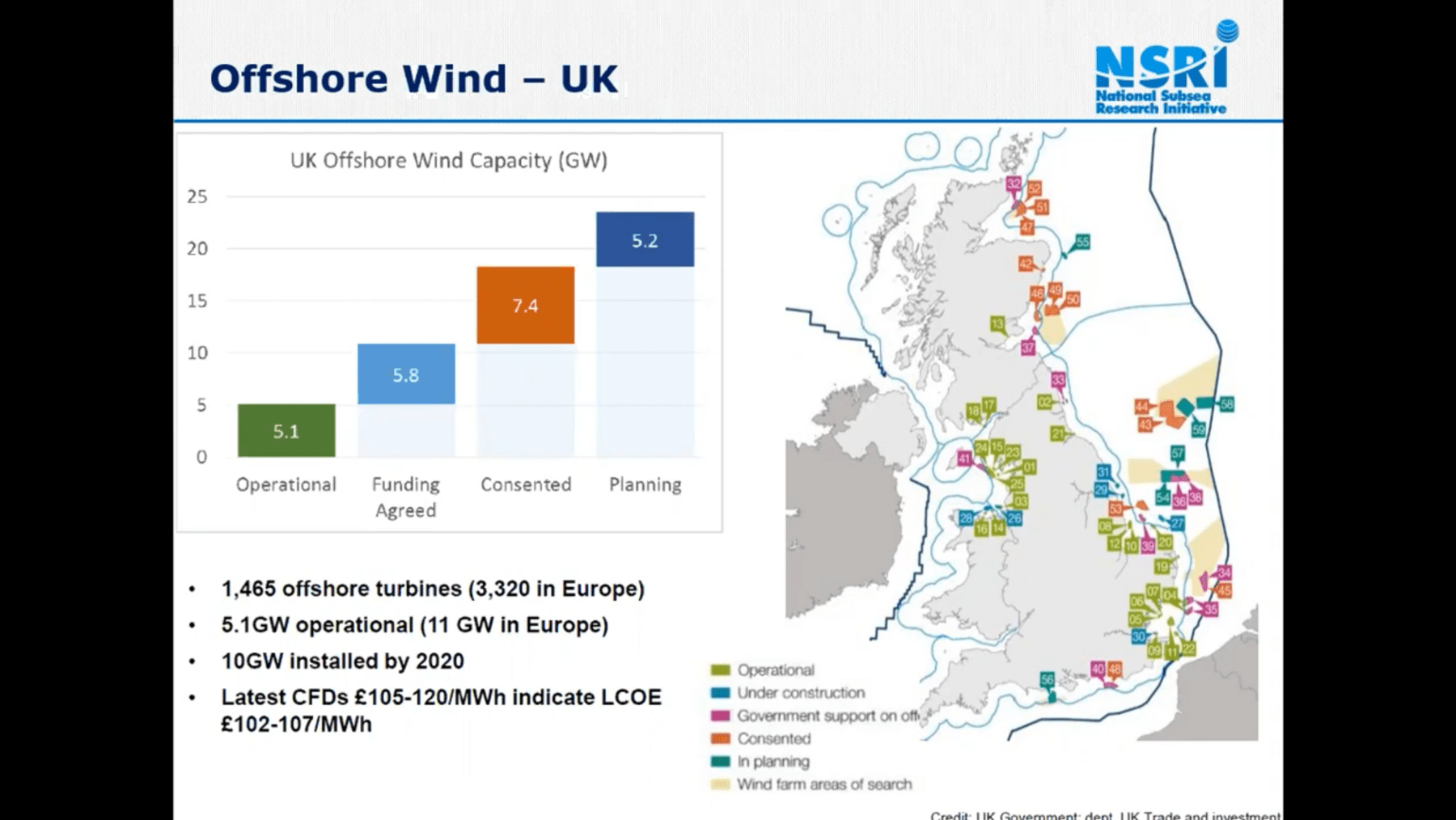 21 September 2020 – Offshore Wind's key role in Energy Transition
Offshore wind has rapidly developed from a few offshore monopiles with small turbines into a multi-million pound sector producing a significant portion of the UK's electricity. In this webinar Tony Laing of NSRI & SUT Aberdeen Branch runs through the evolution of offshore wind into today's floating wind farms, how investors calculate the benefits of going for wind power, the challenges of design, learning from the experience of the oil & gas sector, and the key part wind will play in energy transition including green hydrogen production in the not too distant future.
---
24 August 2020 –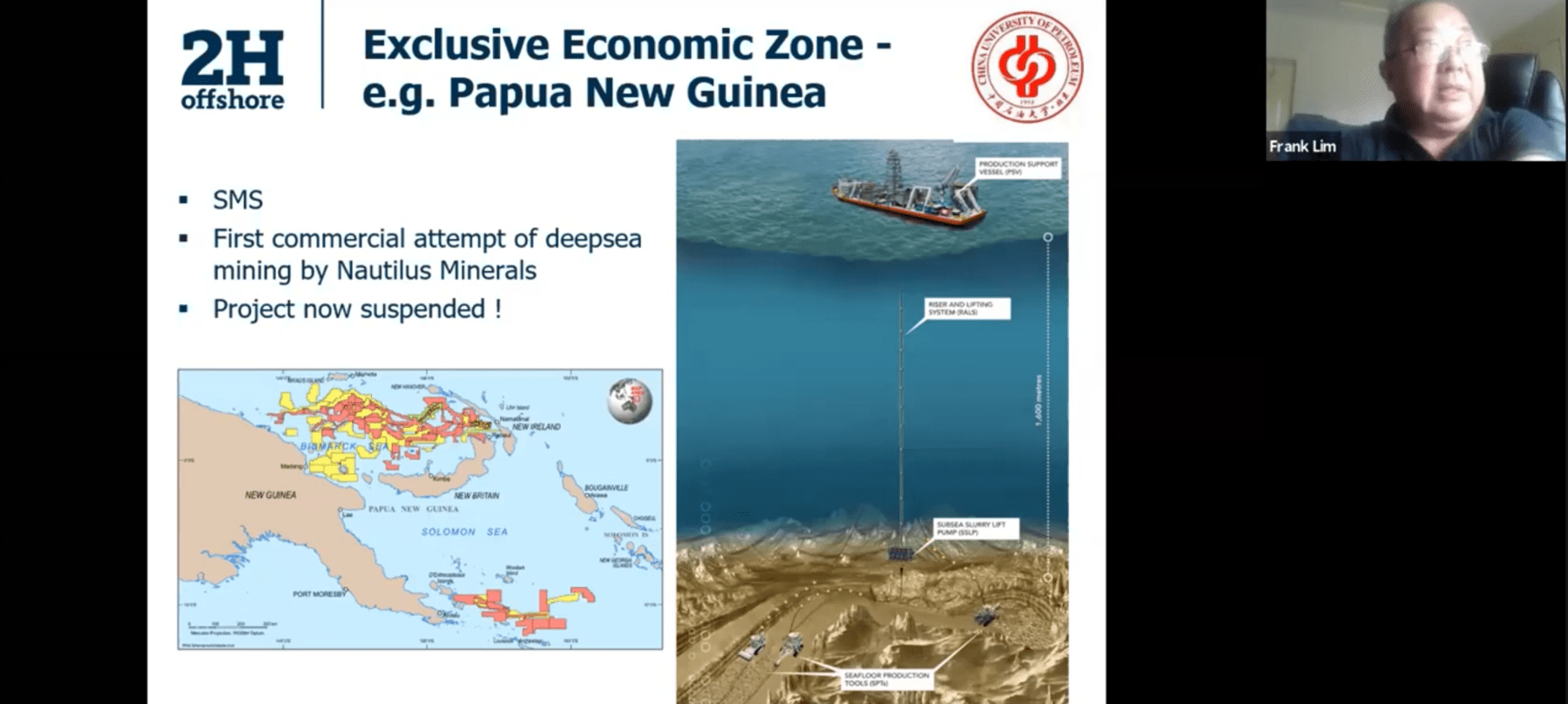 Deepsea Mining: An engineering perspective
Professor Frank Lim of the Petroleum University of China in Beijing, and 2H Offshore, gives a presentation on the engineering challenges associated with deep sea mining, including the particular challenge of robust riser design.
---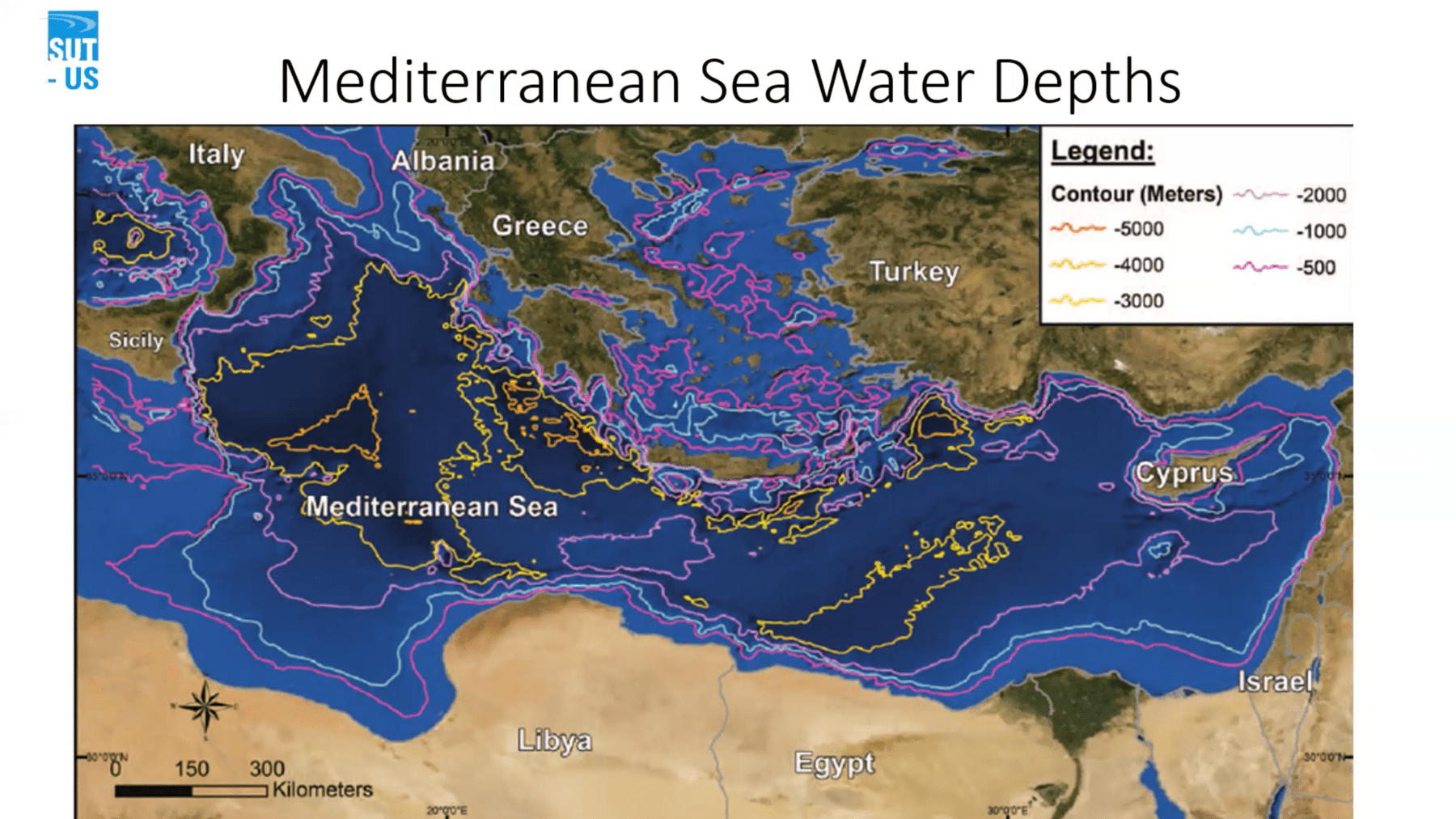 13 September 2020 – Eastern Mediterranean Gas
SUT Fellow & Houston-based Member of Council presents his summary of the natural gas industry that's building up in the Eastern Mediterranean, a region that is rich is resources, but also has many geopolitical issues that can act to either slow progress, or perhaps the desire to profit from the resources may encourage new alliances and peaceful cooperation to flourish.
---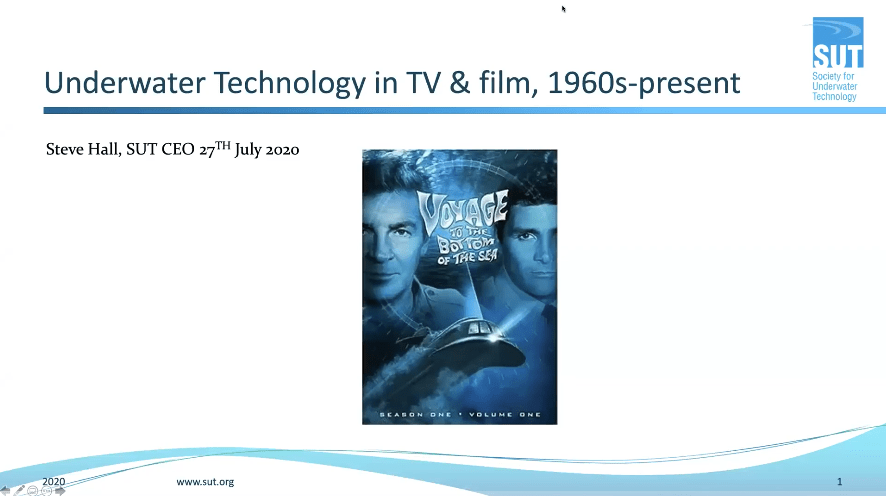 27 July 2020 – Examples of Underwater Technology in Television & Film
Many people come into the world of underwater technology, science and engineering through being inspired by television and movies. In today's webinar, SUT CEO Steve Hall looks at examples from the 1960s to the present day, such as the work of Ivan Tors, Irwin Allen, Gerry Anderson, and in the movie world especially James Cameron to inspire, inform and educate the public about underwater technology.
---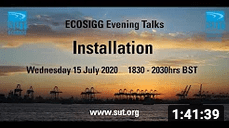 15 July 2020 – ECOSIGG Evening Talk – Installation
Join the ECOSIGG – Early Career Offshore Site Investigation, Geosciences and Geotechnics group of the SUT for an evening of talks on the topic of Installation challenges for offshore foundations, cables, and pipelines. spac
e..
---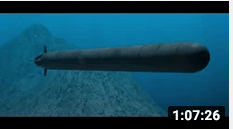 13 July 2020 – The Russian Poseidon Nuclear AUV – Steve Hall
In a game-changing new technological development, the Russian Navy is developing a nuclear powered, and nuclear-armed, Autonomous Underwater Vehicle (AUV) named 'Poseidon', NATO reporting name 'Kanyon'. In this webinar, SUT CEO Steve Hall briefs viewers on what is known so far about Poseidon, such as specifications, purpose, detectability, countermeasures and in particular the legal & policy implications. After the presentation there's a good Q&A session where participants discuss aspects of the vehicle – is it going to be the first of a whole family of systems? Will the West need to build their own as a countermeasure – or as a bargaining chip to negotiate them out of existence?
---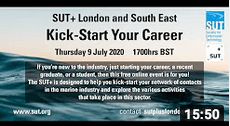 9 July 2020 – SUT+ LSE Kick-Start Your Career
If you're new to the industry, just starting your career, a recent graduate, or a student, then this event is for you! The SUT+ is designed to help you kick start your network of contacts in the marine industry and explore the various activities that take place in this sector. This network focuses on the London and South East region of the UK, so if you live or work in that region, we'd love to welcome you to our community.
---
29 June 2020 – Remote Survey in the Offshore Sector – Zupt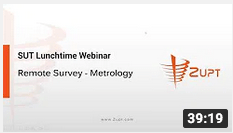 Keith Vickery and Aidan Thirsk of Zupt, LLC. 6818 N Sam Houston Pkwy W, Houston, TX 77064 presenting on Remote Metrology Services, and more general Remote Survey in the offshore sector.
.
space
---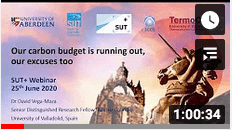 26 June 2020 – SUT+ Webinar – Climate Change, Mitigation Strategies & Carbon Capture & Storage
Dr David Vega-Maza of the University of Valladolid, Spain, speaks about climate change, mitigation strategies and carbon capture and storage (CCS). He discusses how CCS can make an impact on North East Scotland and the energy transition agenda.
David Vega-Maza (PhD) is a senior distinguished research fellow 'Beatriz Galindo' at the University of Valladolid, Spain and an honorary academic at the University of Aberdeen, Scotland.
---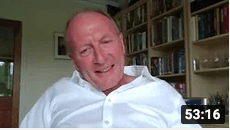 15 June 2020 – Offshore Site Investigation – Mick Cook
Expert Mick Cook speaking on Offshore Site Investigation technology progress.
.
space
---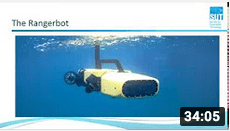 1 June 2020 – Robots to the Rescue – Sue John
SUT Education Committee Chair Susan John presents a free public talk on the subject of how the new generation of marine autonomous vehicles – underwater robots or drones – are being used to help repair damaged ecosystems and plant coral in the Great Barrier Reef and other locations that need a helping hand – or electronic tentacle.
---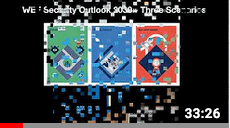 18 May 2020 – Climate Change and the Ocean – Prof Ralph Rayner
spac
spce
---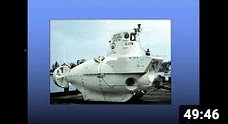 4 May 2020 – Mysteries of the Deep – Steve Hall
In this 50-minute seminar, SUT CEO Steve Hall tells the story of how post-WW2 advances in technology allowed the discovery & investigation of ships, submarines & aircraft lost at sea.
space
---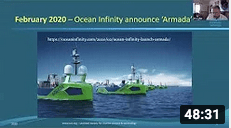 14 April 2020 – New Ocean Technologies – Steve Hall
SUT CEO Steve Hall presenting a summary of the new technologies becoming available for offshore exploration, survey, monitoring, and resource extraction as the world faces the challenges of energy transition, raw material availability, and food supply in the future.