London & South of England Evening Meeting – Something Old, Something New
14 September, 2022
BOOK EVENT
RETURN TO LISTINGS
1800-1930hrs BST
New Venue: St Andrew's at Waterloo, Short Street, London SE1 8LJ
Presenter: Michael Green, TechnipFMC
Deepwater rigs and drillships have a total cost of ownership of up to $1 million per day, requiring a focus on all aspects of operational productivity to ensure optimal economics.
These rig operations require the support of remotely operated vehicles (ROVs) to perform subsea intervention tasks throughout the entire drilling and completion process.
In this SUT session, learn how advancements in machine vision, automation and precision robotics enable our GEMINI® ROV to optimize rig time through increased operational productivity and consistently high performance."
Michael Green has for over a decade been in a variety of Technical Leadership and Commercial positions in the Subsea industry. Michael has driven a number of industry firsts from Front End through to Decommissioning gin many of the global regions. Recently as Subsea Services Director Africa, Middle East and India for TechnipFMC, he has been a focal point for Major Operators as partners to optimize their OPEX and drive further efficiency during the Life of Field operating phase. Michael's passion is supporting clients to improve their asset economics and identifying the key drivers to support them through FID to minimising total installed cost and life of field value and now with added focus on the benefits of emissions reduction
Presenter: Paolo Marcassoli, Cescor
Life extension and requalification process are nowadays required for a number of old oil & gas offshore structures, that are approaching or have exceeded their design life. As part of these activities, integrity of these structures against corrosion by seawater is ensured by cathodic protection retrofit. Criteria and approaches for design and execution of retrofitting may differ from those applicable to new structures manufactured at yard, being the existing structures already at site. Installation constraints and associated costs drive the selected solutions and configurations, and then a dedicated CP design expertise has been developed. Several parameters, including polarisation conditions, marine growth and calcareous deposits on the steel surfaces are conveniently taken into account. Finite Element Method (FEM) and Boundary Element Method (BEM) modelling contribute in design and optimization of protection system layout, galvanic anode or impressed current type (GACP or ICCP).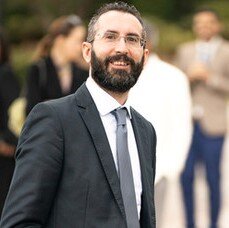 Paolo Marcassoli has fifteen years' experience in materials and corrosion engineering and cathodic protection engineering gained in academic field and the onshore and offshore oil & gas industry, offshore wind, civil and infrastructures. After 6 years of academic and research work at University of Bergamo, he joined Cescor in January 2012 and he was Manager of business line Products in July 2012, Production Manager in August 2013 and Inspections and Production Manager in October 2014.
He currently holds the position of Cathodic Protection and Inspections Manager since April 2019. He primarily carries out activities in the fields of CP design, FEM/BEM modeling, permanent monitoring and inspections"
Please note the new venue location:  St Andrew's is Just off The Cut, between the Young Vic and Old Vic Theatres, just minutes from Southwark and Waterloo tube/rail/bus stations.
Refreshments will not be provided during the presentations. We will decant to a local pub after the presentations.