Perth – AOG Energy 2023
Subsea Forum co-hosted by the Society for Underwater Technology (SUT), Subsea Energy Australia (SEA) & Global Underwater Hub (GUH)
15 March, 2023 - 17 March, 2023
RETURN TO LISTINGS
About AOG Energy
After a few years apart, AOG Energy, Australia's leading oil, gas and energy trade event returns to Perth March 2023. Returning to its 3-day format, the exhibition and conference will be a hub of innovation, connection and opportunity.
AOG Energy is a free to attend event that explores the multifarious aspects of the subsea industry and creates an environment to share knowledge and encourage debate between peers, academics, and industry professionals. Forming part of the wider AOG Energy conference, the dedicated Subsea Forum will once again be a major drawcard for the subsea sector.
About AOG Energy 2023 Subsea Forum
The AOG Energy 2023 Subsea Forum is Australia's leading event for subsea professionals to join forces and identify the challenges and opportunities ahead, as well as showcasing technology and innovation for the underwater sectors.
Australia has been a world leader in developing capability in LNG, which continues to play a crucial part of the future global energy mix. The subsea industry is a key enabling sector that will ensure the fields feeding LNG trains are developed, maintained effectively, and operated efficiently for many years to come, followed ultimately by decommissioning.
More importantly, the subsea sector's knowledge, expertise and technology will play a significant part in the future decarbonisation of the offshore energy mix. Areas such as Offshore Wind, Wave power, CCS/CCUS and Hydrogen are important for Australia's future, and the subsea sector is eager to rise to the new challenges and opportunities.
SUT is proud to be involved as one of the Forum Hosts in 2023.
Subsea Forum Call for Speakers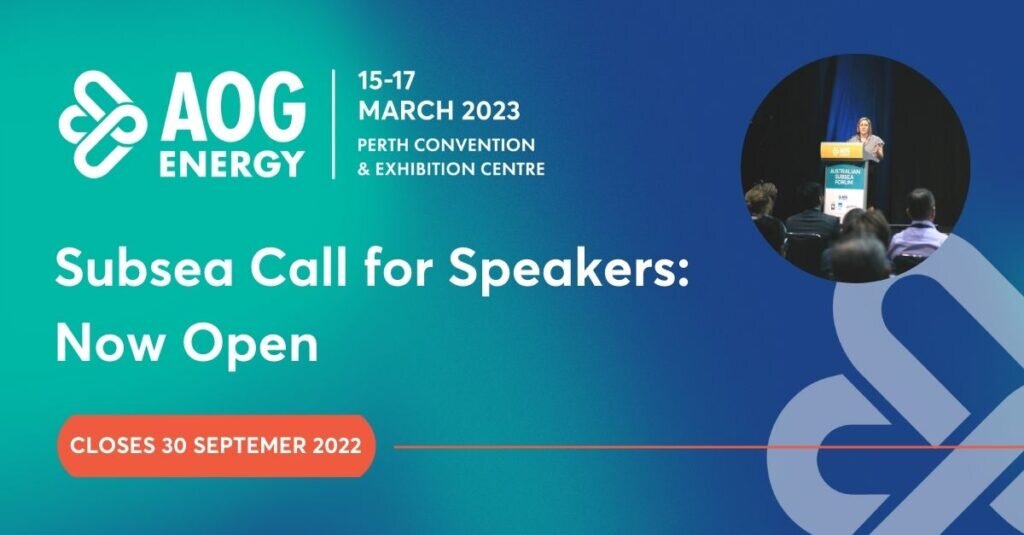 As one of the hosts of Subsea Forum, we are inviting you to submit your papers to be considered for the program.
The AOG Energy 2023 Subsea Forum program will cover topics such as:
cost efficiencies
pipeline innovation
digital twins
decommissioning
decarbonisation
renewables
plus more
Applications are now open.
For details about the selection criteria and key topics, please refer to this flyer.
Please submit your abstract to be considered by 30 September 2022.
Submission portal here
For any enquiries, please go to Contacts Page on AOG Energy's website.
---
AOG Energy 2023 Event Details
When: 15-17 March 2023
Where: Perth Convention & Exhibition Centre, Western Australia
Entry: Free
** Registration to attend AOG Energy will open late 2022, stay tuned for more details.**
---
AOG Energy 2023 Subsea Forum Hosts: