Perth – AOG Energy 2023
Subsea Forum co-hosted by the Society for Underwater Technology (SUT), Subsea Energy Australia (SEA) & Global Underwater Hub (GUH)
15 March, 2023 - 17 March, 2023
RETURN TO LISTINGS
AOG Energy 2023 Exhibition & Conference
Date: 15-17 March 2023
Venue: Perth Convention & Exhibition Centre, Western Australia
Entry: Free
---
Check out this post-event report by Dr. Julie Morgan which gives a complete and detailed account of everything that happened at the Subsea Forum at AOG 2023 Conference.
---
AOG Energy 2023 – Registration now open!
Returning to Perth with a renewed focus on the future, AOG Energy opens registrations to the global supply chain for the first time since 2021. The highly anticipated oil, gas and energy event will once again showcase local innovation and explore future opportunity. Running ??-?? ????? ???? at the Perth Convention and Exhibition Centre, AOG Energy welcomes back international and local delegates for three days of collaboration, insights, and networking.
This event will see a strong focus on the opportunities and challenges presented by the energy transition supported by a rich and varied conference program, packed show floor and sought-after networking events. Hot topics to be covered include; Offshore Wind, Decarbonisation, Decommissioning, Hydrogen, Subsea, Low Emission Technology, plus more!
A preview of the conference program can be viewed on AOG Energy's official website
FREE entry to the exhibition & conference➡️REGISTER HERE

Optional Networking Functions
As the industry reunites, there will be multiple networking events throughout 'AOG Energy week' to connect in a more relaxed setting away from the busy exhibition floor.
??? ?????? ??????? ?????? and
???????? ??????? ?????
??? ????????? & ????????? ????????? is a thought-provoking morning where industry leaders will come together to discuss and implement strategies around the 2023 theme, 'Driving Change to Create Respectful Workplaces'.
These networking events offer the perfect opportunity to catch up with colleagues and make new connections. Make sure to REGISTER EARLY, as these will be sell-out events!
Tickets to these networking functions can be purchased via the AOG Energy website HERE
---
About AOG Energy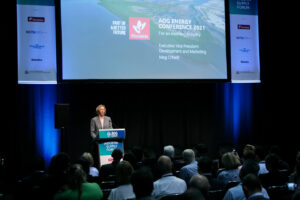 After a few years apart, AOG Energy, Australia's leading oil, gas and energy trade event returns to Perth March 2023. Returning to its 3-day format, the exhibition and conference will be a hub of innovation, connection and opportunity.
AOG Energy is a FREE-to-attend event that explores the multifarious aspects of the subsea industry and creates an environment to share knowledge and encourage debate between peers, academics, and industry professionals. Forming part of the wider AOG Energy conference, the dedicated Subsea Forum will once again be a major drawcard for the subsea sector.
About AOG Energy 2023 Subsea Forum
The AOG Energy 2023 Subsea Forum is Australia's leading event for subsea professionals to join forces and identify the challenges and opportunities ahead, as well as showcasing technology and innovation for the underwater sectors.
Australia has been a world leader in developing capability in LNG, which continues to play a crucial part of the future global energy mix. The subsea industry is a key enabling sector that will ensure the fields feeding LNG trains are developed, maintained effectively, and operated efficiently for many years to come, followed ultimately by decommissioning.
More importantly, the subsea sector's knowledge, expertise and technology will play a significant part in the future decarbonisation of the offshore energy mix. Areas such as Offshore Wind, Wave power, CCS/CCUS and Hydrogen are important for Australia's future, and the subsea sector is eager to rise to the new challenges and opportunities.
SUT is proud to be involved as one of the Forum Hosts in 2023.
---
AOG Energy 2023 Subsea Forum Hosts: