Westwood Global Energy Deepwater Outlook for 2018-2022
24 May, 2018
RETURN TO LISTINGS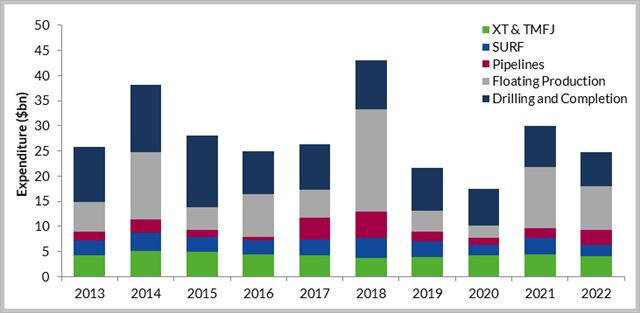 Join us as Andrew Meyers, Associate Director at Westwood Global Energy Group, reviews the current macro situation and present the Westwood Global Energy deepwater outlook for 2018-2022. The outlook analyzes how prolonged low oil price has impacted the deepwater market, with operators considering alternative development options and delaying the sanctioning of new projects, whilst trying to protect returns on their existing investments in the sector.
About the presenter
Andrew Meyers Associate Director Westwood Global Energy Group Andrew began his career as an analyst at Anadarko Petroleum where he gained experience working across multiple asset groups throughout the company. He joined Douglas-Westwood's Houston office in 2014 with over decade of experience in the energy sector. Prior to joining DW, Andrew was a Project Lead in the Market Intelligence practice for a boutique consulting firm where he assisted corporate and financial clients in market analysis, decision analysis, M&A due diligence, commercial analysis, strategy development, market forecasting, technology strategic marketing and benchmarking. His experience spans the upstream, midstream, downstream, industrial, oilfield service and renewable energy sectors. Andrew holds a BBA in Finance from Texas Tech University and a Master of Business Administration from Duke University.
For more information and to register, please click here.