Mick Cook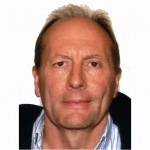 After completing an MSc in marine geophysics, geotechnics, and oceanography at Bangor University in 1979, Mick has spent some 40+ years as a marine geophysicist in offshore site investigation worldwide.
Mick joined an embryonic consultancy, Hydrosearch, in 1984 and spent the next 20 years building the company to the largest of its kind, globally. In 2003, Hydrosearch was acquired by RPS and Mick was appointed Managing Director – Operations of its newly formed and rapidly expanding Energy Division. Mick set up his own consultancy in 2008 providing advice to businesses within the offshore sector, performing non-executive director roles and managing the buying and selling of businesses. He began his career in the oil and gas sectors but was actively involved in developing Hydrosearch's submarine cables business in the late 90's and offshore wind at the turn of the century.
Throughout, Mick has remained in touch with his roots in offshore site investigation. He has been a member of the SUT Offshore Site Investigation and Geotechnics Committee (OSIG) since the late 1980's, including 10 years as Chair. More recently Mick joined the Council of the SUT and has been Treasurer of the Society since 2016.