Back to Full List
Oceanographic and Underwater Industries in Asia
£10.00 +Shipping
To purchase the book, please select your shipping option.
A Report on an International Technology Service Mission to Korea and Japan: 8£19 June 1998
ISBN 0 906940 34 6, Ringbound, 1998
Order reference C18, Price:Non-members £10, members £9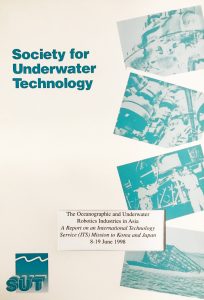 This report covers the findings of a Trade Mission sponsored by the Society for Underwater Technology (SUT) through the International Technology Service (ITS) of the Department of Trade and Industry (DTI). This Mission was concerned with finding the present state and future plans in Korea and Japan of both the oceanographic information and underwater robotics industries, the latter including remotely operated vehicles (ROVs) and autonomous underwater vehicles (AUVs). The Mission took place in June with four working days spent in the Republic of Korea, and then five working days in Japan.
Government departments, Government research institutes, universities and industry were visited where comprehensive briefings were given, questions answered and tours of the facilities provided. This report sets out the findings, in which the team members have tried to assess the strengths, weaknesses of the two countries in their areas of interest, to assess the opportunities for UK industry and to indicate potential threats to UK industry from these countries.
The busy reader will get the gist of the report from the Executive Summary, amplified by the Analysis section in the country of interest. However, to those who do not have experience of either country but have a serious interest in doing business there, the cultural and economic background sections of the report are thoroughly recommended, as are the comprehensive annexes on ROVs and AUVs.
Contents
Executive Summary
Republic of Korea: Overview, Analysis and Conclusions
Japan: Overview, Analysis and Conclusions
General Conclusions
Mission Objectives
Mission Members
Mission Programme and Visit Reports – Korea Korean Ocean Research & Development Institute (KORDI), Korean Institute of Machinery and Metals (KIMM)/Korean Research Institute of Ships and Ocean Engineering (KRISO), Seoul National University (SNU) – Department of Ocean Engineering,, Daewoo Heavy Industries Ltd – Shipbuilding Division;
Mission Programme and Visit Reports – Japan Science and Technology Agency (STA), JAMSTEC, Tokyo University, Fisheries Institute, Kokusai Denshin Denwa (KDD), Japan Maritime Safety Agency – Hydrographic Department, Tokai University, Mitsubishi Heavy Industries Ltd – Kobe Shipyard & Machinery Works, Mitsui Engineering & Shipbuilding Co Ltd – Tamano Works
Background Briefing: Japan in July 1998
ROVs: Further Details
AUVs: Further Details