Dates Announced for Next SUT Virtual Subsea Awareness Course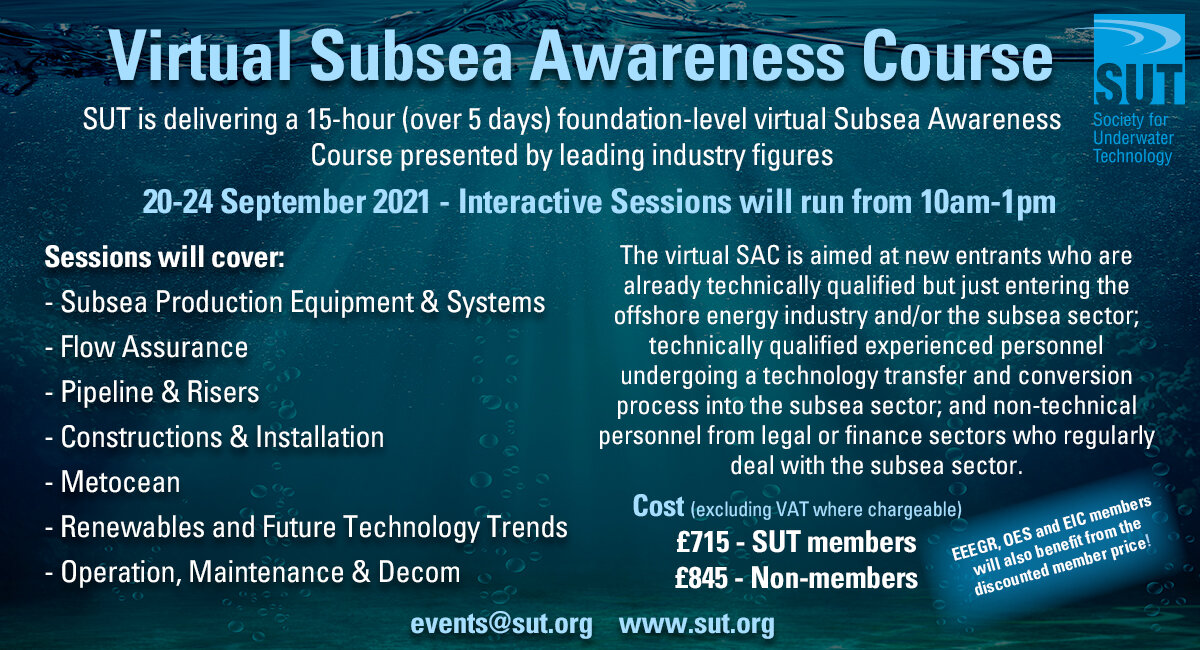 The Society for Underwater Technology's (SUT's) next Virtual Subsea Awareness Course will be held 20-24 September 2021, featuring 15 hours (over five days running from 10:00-13:00 BST) of foundation-level interactive sessions presented by leading industry figures.
The course is aimed at new entrants who are already technically qualified but just entering the offshore energy industry and/or the subsea sector; technically qualified experienced personnel undergoing a technology transfer and conversion process into the subsea sector; and non-technical personnel from legal or finance sections who regularly deal with the subsea sector. It is based on SUT's highly successful face-to-face 5-day course from which more than a thousand delegates have benefited over the past 20+ years. The course is CPD approved. Registration is at www.sut.org/event/virtual-subsea-awareness-course-3/
Sessions will be delivered by a dozen experts drawn from Fellows and members of the SUT including selected speakers from BP, Wood, the Pembrokeshire Coastal Forum, Subsea 7, and Oceaneering and will cover subsea production equipment and systems; flow assurance; pipelines and risers; construction and installation; metocean; renewables and future technology trends; operation, maintenance and decommissioning.
Looking back at the first Virtual Subsea Awareness Course held earlier this year, Cheryl Burgess, SUT's Chief Executive explained:
"It was attended by 20 delegates from the UK and overseas and attracted very positive feedback with comments such as 'Really well worth it!'; 'It was enlightening. Experts with decades of experience explaining principles at exactly the right level… and answering questions!'; 'Thanks for an enjoyable course'; 'Virtual courses really work. I would recommend it to individuals trying to improve their understanding and companies wishing to invest in their employees'; 'I'm taking away a lot of new awareness from the course'; and perhaps, best of all 'I wish I had been on this course years ago!'.

"We look forward to welcoming new delegates and know they will find it similarly inspiring. Our confirmed speakers are Paul Benstead; Michail Birdas; Dave Brookes; Ila Glennie; Steve Hall; Hooman Haghighi; Tony Laing; David Saul; Bernadette Weber; and Graham Whitehead. We thank them for giving of their time so generously and freely."
The course fee for SUT members if £715 (with this discounted price also available to EEEGR, OES, IMCA and EIC members); and £845 for non-members (excluding VAT where applicable).