Aberdeen Branch Webinar – Life Cycle of a North Sea Decommissioning Project Series
Presentation 3 - Allseas Engineering – Making Single Lift Possible
07 April, 2021
BOOK EVENT
RETURN TO LISTINGS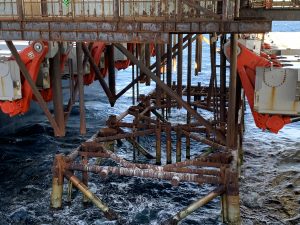 Webinar – 1330 -1430 BST
Allseas Engineering – Making Single Lift Possible
Presenter: Michael Jeffrey – Lead Heavy Lift Engineer Ninian Northern Platform topsides removal
Click here to watch a short taster video clip from our speaker
Allseas is known for her flagship vessel the Pioneering Spirit and her single lift technology, the Topsides Lift System (TLS).
This talk will present CNRI's Ninian Northern Platform topsides removal project as a case study concentrating on the work that goes on in the background that makes single lift possible.
The main focus areas will be:
The challenges dealing with aging offshore assets

Completing preparations amid competing plug & abandonment activities

Creative solutions for separating and lifting separating topsides from their jackets

Executing a single lift

Transferring an asset onshore with a transport barge and heavy lift skidding system
Please click here to read the transcript of the Q&A from this event.