South West Evening Meeting – Advances in Marine Measurements
Portland Square Building (Plymouth Lecture Theatre), Plymouth University, Drake Circus, Plymouth, PL4 8AA
29 November, 2018
RETURN TO LISTINGS
The theme of the session is "Advances in Marine Measurements", and will address the following subjects:
Metocean measurements from Acoustic Doppler Current Profilers. Speaker: Claire Cardy (Director, Nortek UK)
Claire studied Oceanography at the National Oceanography Centre, Southampton, and has since worked for Fugro, BMT and ABPmer in a variety of metocean roles, including conducting feasibility studies, front-end engineering design and hydrodynamic modelling for the offshore oil and gas and marine renewable energy sector. At Nortek, Claire provides acoustic Doppler instruments throughout the UK and Ireland. These instruments are used to measure currents and waves in a variety of applications, ranging from detailed lab-based studies to highly accurate subsea navigation.
Coastal measurements from aerial drones. Speaker: Dr Tim Scott (Lecturer in Ocean Exploration, University of Plymouth)
Tim is a Lecturer in Ocean Exploration at the University of Plymouth – actively contributing to internationally-recognised research on beach and submarine geomorphology, rip current dynamics and coastal hazards – with extensive experience of intertidal and nearshore oceanographic instrumentation deployments. In addition to publishing over 25 peer-reviewed journal articles, as well as numerous conference papers, technical reports, invited lectures and workshops, Tim has conducted a considerable amount consultancy work, including working closely with the Royal National Lifeboat Institution for over a decade, improving understanding of physical coastal hazards and developing operational risk assessment tools. He holds a PhD in Coastal Processes. Prior to lecturing, Tim was a Research and Knowledge Exchange Fellow at the University of Plymouth, and previously employed as a consultant geophysicist within the commercial hydrographic and seismic industry at WesternGeco and DeepOcean.
Physical oceanography measurements from surfers and satellites. Speaker: Dr Bob Brewin (Remote Sensing Scientist, Plymouth Marine Laboratory)
Bob is a Remote Sensing Scientist at the Plymouth Marine Laboratory, focussing on the use of satellite data for understanding marine biogeochemistry, and on citizen science projects for measuring key environmental indicators such as water quality. Conducting research across a range of ecosystems, from the coast to the open ocean, Bob has spent over six months at sea collecting data for validating remote sensing observations, as well as developing and testing new algorithms for the detection of chlorophyll concentration, phytoplankton functional groups and sea surface temperature. He holds a PhD in Satellite Oceanography. Prior to working with the National Centre for Earth Observation, Bob was a Research Fellow on several European Space Agency projects, including the Ocean Colour Climate Change Initiative, and has participated in multiple Atlantic Meridional Transect measurement programmes.
Biological oceanography measurements from vessels of opportunity.  Speaker: Dr George Graham (Instrumentation Data Scientist, Marine Biological Association)
George is an Instrumentation Data Scientist at the Marine Biological Association, examining the impact of climate change on marine plankton and the health of our oceans. He leads the development of new instrumentation and observing system capabilities, as well as commercial consultancy and R&D in instrumentation and data analytics. Specialising in the measurement of suspended particulate matter in the coastal and open ocean, George uses novel imaging, optics and acoustics systems, in combination with Artificial Intelligence and Machine Learning approaches, for particle characterisation and monitoring. With broad experience in both academic and research consultancy, he has developed and deployed a range of novel submersible hardware technologies for physical, biological and chemical sensing and built bespoke software systems for the management, analysis and visualisation of large environmental datasets.  He holds a PhD in Physical Oceanography. Prior to working with the CPR Survey, George was a Research Fellow on two consecutive National Environment Research Council grants and has been involved with the spin-out and commercial licensing of optical technology.
Subsea Augmented Reality – Visualise and Measure, Speaker: Alexander Steele (R&D Hydrographic Surveyor, Fugro)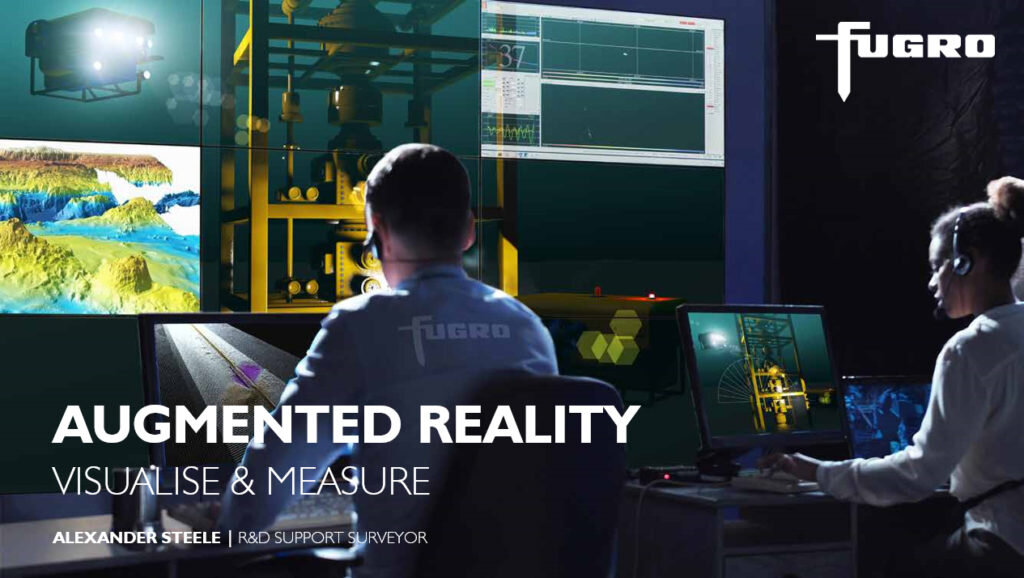 Alexander supports the worldwide program for implementing the effective deployment and use of new systems within Fugro's Vision Technology Group. Having graduated from the University of Plymouth with a First Class Honours degree in Ocean Exploration, his roles within Fugro have included trialling Fugro's own acquisition software suite at Fugro Intersite, working operationally on large scale projects offshore for Fugro Survey, and delivering training within the Fugro Academy. While now based in the Innovation Centre at Fugro's Headquarters in the Netherlands, Alexander combines the skills of a Hydrographic Surveyor with that of a technical Product Manager. Frequently deployed offshore to assist with specialist project work and responsible for leading product trials of new hardware and software in the North Sea, Africa, the Americas, Australia and the Middle East, Alexander also provides technical support and project management assistance remotely to Fugro's local offices across the globe.
Presentations will start at 18:15pm and will be chaired by Dr Edward Steele (Met Office).
This is a FREE event, and (limited) parking is available on site. You do NOT need to be a member of the Society of Underwater Technology to attend, however please take a look around  our website to understand the benefits of doing so!
The University of Plymouth, home to over 3,000 marine-focussed staff, researchers and students, are kindly hosting the event on their city centre campus. This is a convenient location for travel within the South-West; it is only 45 miles from Exeter, 66 miles from Falmouth and 120 miles from Bristol, as well as benefitting from direct trains from London Paddington. The Jury's Inn Hotel is just around the corner from the Plymouth campus, if you want to stay over.
You can view the meeting report here.
PLEASE NOTE CHANGE OF VENUE FOR THIS SOUTH WEST MEETING .