London & South of England – Carbon Capture & Sequestration: Strategies, Plans and Equipment
Beazley Ltd 22 Bishopsgate, London EC2N 4BQ
11 May, 2022
BOOK EVENT
RETURN TO LISTINGS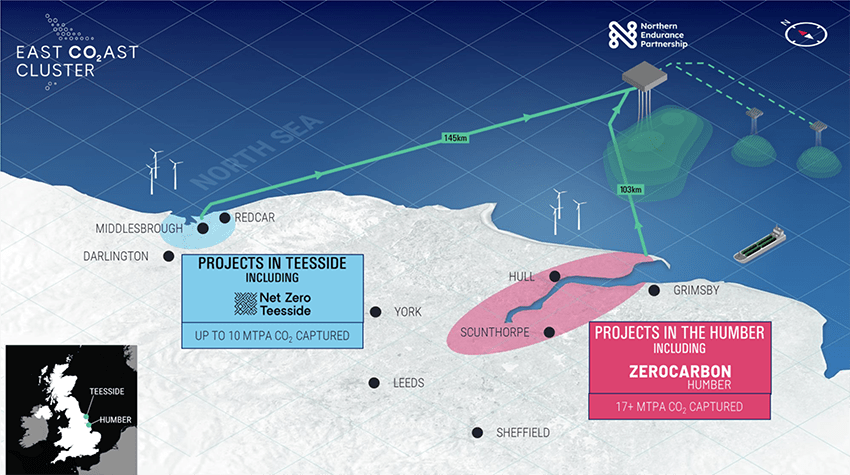 Free to attend but pre-registration is essential 
Networking from 5pm, presentations from 5:30pm  until 7:30pm
Join the London & South of England branch for their first face to face event in 2022; we will hear from BP, Wood & Sonardyne
BP: First-of-a-Kind Carbon Capture/Infrastructure project for South North Sea.
Presenter: Nicolas Bouffin Senior Reservoir Engineer, NZT/NEP CCUS Project, BP
The Northern Endurance Partnership (NEP) as part of the East Coast Cluster (ECC) intends to deliver an innovative First-of-a-Kind (FOAK) offshore low-carbon CCUS infrastructure in the Southern North Sea (SNS), connecting the Humber and Teesside Industrial Clusters to the Endurance storage site (saline aquifer). Initially, an average of 4 Mega Tons of CO2 emissions per annum (MTPA) is to be transported and stored by 2026 from power and industrial sources via two CO2 pipelines connecting the Humber and Teesside compression/pumping systems to a common subsea manifold and well injection site at Endurance. The presentation will provide an overview of the project.
Wood Group: CO2 specifications for Carbon Capture Value Chains
Presenter: Chris Phillips Regional Studies Manager, Wood Plc
One of the key challenges in the CCUS value chain is that different projects have different CO2 specifications. There is no "one size fits all" solution which is cost-effective for all CCS chains. Gaining industry acceptance for guidelines requires legitimacy and authority behind the recommendations. To address this, Wood will shortly be leading a JIP With Equinor, TotalEnergies, Gassco and others to generate guidelines for setting the CO2 specification in order to create cost-effective and optimally functioning CCS chains. In this presentation, Wood shall present the project activities that are shaping the JIP and how this can influence CCUS projects moving forwards.
Sonardyne: Long Term Monitoring of Stored Sub-Seabed CO2
Presenter: Stephen A. Auld, Global Business Manager at Sonardyne International Ltd
If unwanted CO2 is stored inside offshore storage reservoirs, how do we ensure that it does not escape? This has been the topic of both research and speculation within Carbon Capture and Sequestration (CCS) projects and is now re-emerging, as preventing any further rise in atmospheric CO2 becomes more critical. This talk looks to examine the work of the Energy Technologies Institute project to develop and Monitoring, Measurement, and Verification (MMV) system to fulfill this capability requirement. Particular case studies were the Endurance site and Goldeneye store, but many of the issues apply to all the major European offshore storage projects currently in consideration and of course have global applications as well. We will look at the technologies and techniques that can be applied to provide reliable and cost-effective store monitoring throughout the lifecycle of an entire project
Many thanks to our hosts, Beazley!