SUT+ Insights Into Thesis Preparation
Lunchtime webinar
30 June, 2021
BOOK EVENT
RETURN TO LISTINGS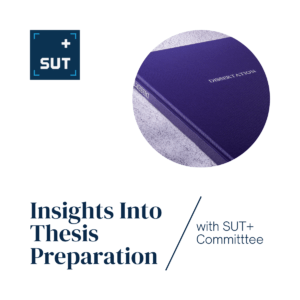 Webinar
Wednesday 30th June 2021
1330hrs – 1430 hrs BST
The SUT+ Aberdeen branch is pleased to announce its latest event, 'Insights Into Thesis Preparation', which is aimed at student members. In this informal webinar, you will hear from committee members about their thesis experience, tips and lessons learnt.
The webinar will have a 45min presentation followed by a 15min Q&A session. The following topics will be covered:
Literature review
Research resources
Report writeup
Referencing tools
Viva presentation
Time management
We hope our student members who are currently doing their MSc thesis or those who will be doing BEng/MEng projects in the future would find this event useful.
Disclaimer: The opinions expressed during the webinar are based on the committee members' personal experiences. Students must follow their university guidelines.