Judith Patten MBE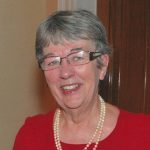 Judith Patten MBE is the current President of The Society for Underwater Technology.
She is the co-creator of All-Energy, the UK's largest renewable and low carbon energy exhibition and conference which was first held in 2001 and was an annual event until COVID-19 struck. This saw her creating 30 webinars between May 2020 and March 2021 with a combined viewership of 19,660 (all are available 'on demand') in place of the 'live' event. The show was originally held in Aberdeen for its first 14 editions and moved to Glasgow in 2015. When Reed Exhibitions acquired it in 2011 Judith was appointed a consultant to the event, creating the huge (usually up to 600 speakers) conference, handling PR, and acting as an ambassador for the show.
She is at heart a PR woman with a client list that includes Fugro and the International Marine Contractors Association (IMCA).
She is a Fellow of the SUT and a member of the Society's Marine Renewable Energies Committee. She was awarded MBE in 2014 'For services to renewable energy', and was presented with the 'Outstanding Contribution Award' at the Scottish Green Energy Awards in 2012.