Kat Route-Stephens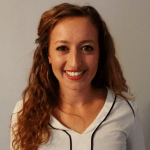 Kat is a Senior Marine Consultant specialising in environmental regulation and consenting. Before joining MarineSpace Ltd In 2020, Kat worked at Natural Resources Wales (NRW) for seven years in the Marine Licensing Team responsible for determining applications in Welsh waters. Subsequent progression into strategic policy at NRW allowed Kat to apply her experience of marine regulation and consenting to provide specialist advice on marine industries and energy as a SNCB advisor.
Kat has a demonstrated experience working in all marine sectors including offshore wind, floating offshore wind, aggregate extraction, and oil & gas in relation to marine consenting, Environmental Impact Assessment (EIA), and Habitats Regulation Assessment (HRA).
At MarineSpace, Kat provides consultancy support to all sectors, specialising in offshore renewable energy projects, including aspects such as project scoping, EIA, HRA, marine license applications, and consent compliance and project management. Kat has also become a member of the RenewableUK Offshore Consenting & Licensing Group.