May 2018 Update from SUT CEO Steve Hall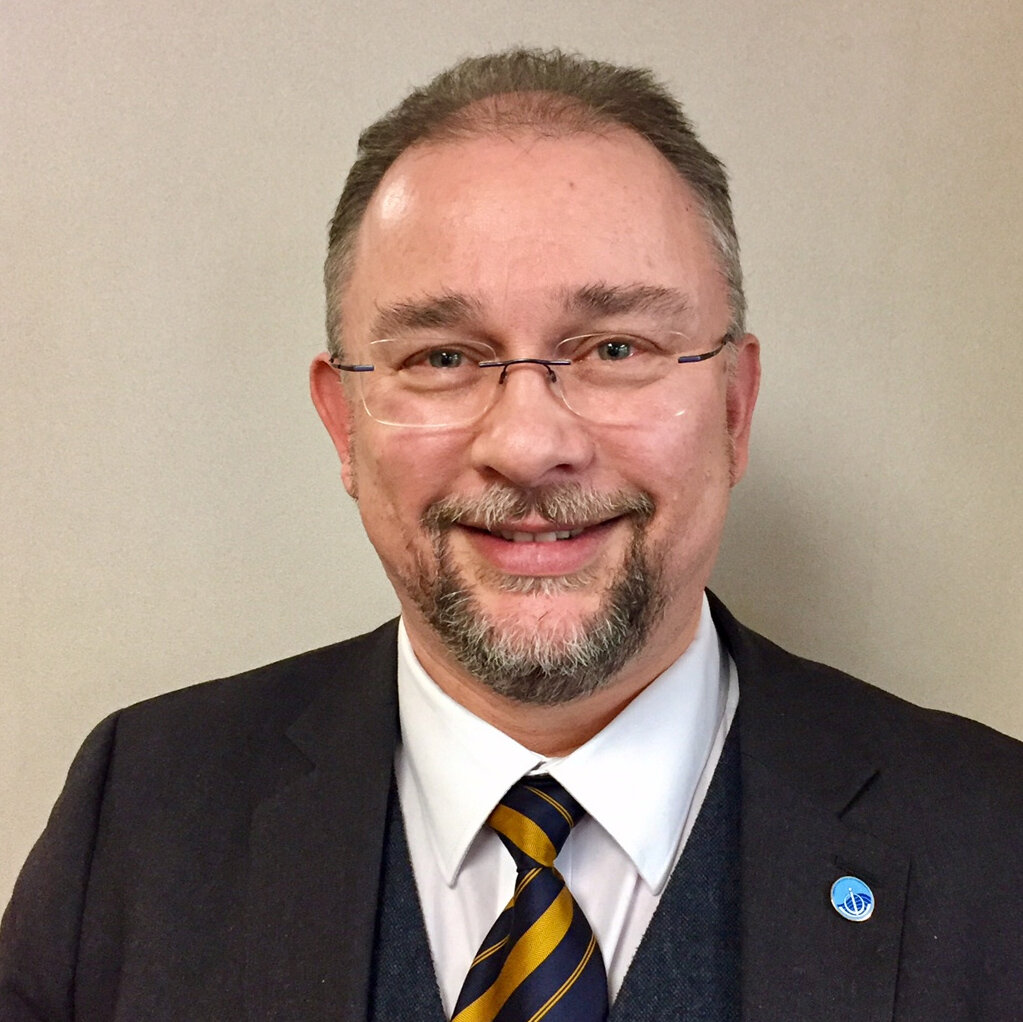 Dear members, friends and supporters of the Society for Underwater Technology. This year is flashing past and it's almost June so I'm well overdue to send you an update about what I've been up to, and how the HQ team, Branches, Council Members and Exec have all been busy delivering our mission to educate and inform people about underwater technology in a multitude of ways.
January started with a welcome visit to London by Nils Vaagen and Tom Eriksen from the SUT's Norway Branch. We were able to discuss how we can work together to resume a programme of events, and rebuild the SUT's activities in Norway in coming months and years. I'll be present at the Underwater Technology Conference in Bergen from 12-14 June and HQ staff will help the branch set up in time as a legal entity within Norway, rather than be the only overseas branch that is still legally part of the UK operation.
Later in January I attended a busy Business Breakfast hosted by our Aberdeen Branch, who have worked hard to deliver a constant series of daytime and evening presentations throughout the year. I'd like to thank our expert volunteers for their work presenting Subsea Awareness Course, the most recent this May was very well received and the next one will be held in Aberdeen from 5th November. We welcomed Scottish Enterprise as new corporate members and I'm working with them on technology foresight matters to help ready Scottish policy makers and industry for the exciting new ocean-related technologies that are going to emerge over the next few years. I was delighted to see that our Aberdeen branch treasurer and SUT Fellow Tony Laing was appointed as the new Director of Research and Market Acceleration for the National Subsea Research Initiative.
We've been developing better links with SubseaUK and Decom North Sea, encouraging our members to engage with these organisations to share knowledge and experience, not to 'reinvent the wheel' and to help prepare industry for new opportunities becoming available offshore, and have a consistent message to policy makers and government.
SubseaUK's SubseaExpo in February provided another opportunity to engage with our members, and I was honoured to attend the splendid dinner in the company of senior professionals from across the offshore sector. For me, not coming from an oil and gas background but rather the marine science, technology and policy world, events such as SubseaExpo, Offshore Europe & All-Energy help me to understand the concerns and challenges of the offshore energy sector, be they fossil fuel or renewable, which are quite different from the issues of concern to other parts of our broad membership.
In February and March our publications officer Emily Boddy spent seven weeks on secondment in our Perth Branch, in a highly beneficial learning and knowledge-exchange experience where she became an integral part of the SUT branch in Australia. Emily attended the three-day Australian Oil and Gas exhibition as well as most of the SUT meetings and events that occurred while she was there, meeting dozens of our Perth-based members and helping to strengthen the relationships across the global SUT family.
As official observer members of UNESCO's Intergovernmental Oceanographic Commission I was invited to be part of their 'SeaChange' ocean literacy workshop, where I provided probably the only industry-sector voice. 'Ocean Literacy' is a growing movement within the international marine science education community and is a blanket term for how we train the public, industry, decision makers, educators and politicians to better understand how human activities affect the ocean, and how the ocean influences so many aspects of our lives from weather, commerce, access to energy and food, and the defence of our homelands. The theme will be taken again up in October when the European Marine Science Educators Association meet in Newcastle – hopefully an opportunity to engage with our branch there.
Later in February I visited the headquarters of Sonardyne to present our Presidents Prize to founder John Partridge, in grateful recognition of his outstanding and sustained contribution to underwater technology. It was fascinating to be shown around their facilities, meet the staff, and very noticeable what a 'happy ship' Sonardyne is, with evidently high morale, a loyal workforce and a real sense of being part of a family of like-minded ocean technologists who want to make a difference.
The end of February brought me to Nicosia, Cyprus, where I attended the BRIDGES deepwater glider annual workshop. SUT is a partner in this EU-funded Horizon2020 project to deliver a deep (2400m), and ultra-deep (5000m) hybrid glider/AUV that is closely tailored to the specialist requirements of future industries such as deep-sea mining, as well as sustained observations and oceanographic monitoring. We're providing advice on exploitation strategy, industry links and innovative uses of the glider, which begins sea trials soon.
For Science Week in March we partnered with Lloyds Register in London to provide a lecture for schools, departing from our comfort zone and presenting to under-10s rather than our previous teenage audience. Gary Momber did an excellent talk on marine archaeology and shipwrecks, and I provided one on underwater robots that may explore the moons of Jupiter and Saturn by the time the kids are in their workplace prime – hopefully an inspiring message for them.
March also saw Oceanology International and the associated Catch the Next Wave conference take place at London's ExCel – the SUT had a better-than-usual spot in the exhibitor's hall where we were able to greet members old and new, and we also displayed a poster (and a tiny 3d-printed model) about the BRIDGES gliders, and for one day hosted a pair of marine licensing specialists from the Marine Management Organisation – the UK government's agency for issuing permits for all manner of offshore activities within the 200 mile exclusive economic zone (with Marine Scotland doing the same north of the border). I've since attended a workshop with the MMO in Newcastle to explain how they are perceived by some parts of industry and to explore how SUT can help them to build a better relationship with contractors.
Catch the Next Wave was an amazing day, themed on underwater exploration – with film producer, diver and explorer James Cameron starting things off with a video welcome address to delegates, and a series of other very fine presenters including Rory Golden, Orla Doherty (producer of BBC Blue Planet 2) and Dr Michael Gernhardt – a NASA astronaut and former hard-hat diver who delighted us with footage from space showing how the techniques used in construction subsea were inspiring how astronauts and cosmonauts assemble and service the International Space Station. It was good for SUT to have our logo in the same space as the Explorers Club and the Shell Ocean Discovery X-Prize. Good too to meet Dr Rick Spinrad who was chairing part of the meeting alongside our president Professor Ralph Rayner. Rick is President-Elect of our sister Learned Society the Marine Technology Society, and we ensured that we had a deep discussion about how we can build a good relationship between our two societies in the coming years.
Since I joined the SUT one of the striking developments has been the growing success of South West chapter of the London and Southern England Branch. Brian Green, with Caroline Acton and Dr Ed Steele from the Met Office, have hit the ground running with a series of events and I expect that the Chapter will soon be a fully-fledged branch. Check out our events page for the next one, 14th June, on Floating Wind.
At the end of March I visited our SUT-US Branch in Houston for the launch of the new Underwater Robotics chapter at Rice University, meetings with industry (learned a lot at Oceaneering) and attendance at one of the excellent social events for members that Patsy, Araceli and the local volunteers are so good at arranging. 'The Art of Whisky Tasting – version 2' was kindly hosted by the Chopard Boutique who promised that 10% of proceeds of any sales to SUT members during that month would be donated to SUT-US, I'm all in favour of that! I was also delighted that the Welsh Whisky from the village of Penderyn near my home village was rated very highly by the assembled crowd, the distillery was most impressed when I told them they're well-regarded in Texas. Our Houston colleagues are working hard on growing SUT's presence in the Americas, with plenty of new activity beginning in Mexico, and engagement with the West Coast beginning too.
On 4th April we held a Special Meeting of the Executive Committee of Council to go through strategy, growth and future focus for the Society. We agreed on a strapline 'An International Learned Society for Marine Science and Technology' that you'll see gradually appearing on our website, presentations and publications, and as well as enthusiastically providing a Learned Society home for our long-standing members we will aim to grow in three more areas – aquaculture, renewables and defence. We have some engagement already in all of these, especially marine renewable energy, but Council and I will place more focus than has been the case in the past in growing our influence in these areas.
Later in April I had a busy week on the European mainland, co-chairing two sessions at the MCE Deepwater Development conference in Milan and then driving down to the University of Zadar on the Croatian coast, hosted by Dr Melita Mokos, to honour a long-standing promise to deliver lectures to students over two days on robotics, marine policy and marine spatial planning, discuss new course possibilities & collaborations with the SUT with the university leadership, and then to Zagreb to visit the excellent Laboratory for Underwater Systems and Technologies, where I was hosted by Professor Zoran Vukić (who serves on the editorial board for our Journal) and Dr Antonio Vasilijević – they're building some really innovative marine robotic systems there. The Croatian visits raised the SUT's profile in the region, with discussion by my hosts and the Italians in Milan (as well as ongoing conversations in Greece & southern France) about whether SUT should consider having a Mediterranean Branch in future – something for our International Committee to consider.
Attendance at our evening meetings across the branches is growing, with excellent speakers and events encouraging members, guests and students to take time out to learn about new developments, technologies and to network too. My thanks to the events people across SUT for their tireless work, a lot of effort goes in to making these evening and lunchtime events go smoothly and we couldn't do it without our loyal staff and the volunteers from the membership.
Volunteers really do make our Society tick along – I've been working with Sue John (Chair of the Education Committee) on an exciting new outreach project that we hope to be able to announce soon, and with former Council Member Adrian Phillips who is putting hours of volunteer effort in the Middle East to see if there are possibilities to get SUT off the ground in the Gulf States, and these efforts are bearing fruit with enquiries from ADIPEC about having an SUT presence there later this year – probably hitching a ride with one of our corporate members in the region.
I'm liaising with our friends at Reed Exhibitions to promote and grow Oceanology Americas and Oceanology China, and I attended their All-Energy event in Glasgow earlier in May, where our Marine Renewables Energy Committee Chair Dr John Sharp was able to present the Lennard-Senior Prize to Sue Barr, awarded in recognition of her individual achievements in the field of marine renewable energy.
Some other news to finish off –
For those in southern UK there's an excellent social evening coming up on 21st June on board HQS Wellington, and for Aberdeen on the same date a golf day – with equivalent events across the globe.
If you're based in Europe you'll know that the GDPR data regulations come into effect by the end of May, so please ensure that you've replied to Jane Hinton's request for permission for SUT to stay in touch.
We'll be launching a prestigious new Student Bursary Scheme in collaboration with Sonardyne shortly – watch this space for details and how to apply.
On 26th April Council voted to activate a new West Africa Branch, recognising the growth & importance of the region in offshore exploration and production.
Finally I'd like to thank Corelle Charles, who was part of the SUT staff team in Perth and has moved on to pastures new a few weeks ago, and welcome Patricia Slapp as the new events and marketing coordinator there; and a very special thanks to Paul Williams who has stood down as Chair of the Aberdeen branch due to a greatly increased workload in his day-job – we welcome the return of economic activity in our sector as we all benefit from it, and appreciate that sometimes it's just not possible to wear multiple hats.
I'll sign off for now and try not to leave it so long until the next update – have an enjoyable Northern hemisphere summer, and a pleasant Southern hemisphere winter.
Steve
Steve Hall, May 2018 steve.hall@sut.org