Professor Peter Wadhams
Professor Peter Wadhams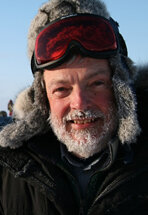 Peter Wadhams is the UK's most experienced sea ice scientist, with 48 years of research on sea ice and ocean processes in the Arctic and the Antarctic. This has focused on expeditions and measurements in the field, which has involved more than 50 expeditions to both polar regions, working from ice camps, icebreakers, aircraft, and, uniquely, Royal Navy submarines (6 submerged voyages to North Pole). His research group in Cambridge has been the only UK group with the capacity to carry out field work on sea ice.
He is Emeritus Professor of Ocean Physics and is the author of numerous publications on dynamics and thermodynamics of sea ice, sea ice thickness, waves in ice, icebergs, ocean convection and kindred topics. The current main topics of research in the group are sea ice properties, dynamics and distributions in thickness and concentration. He is also a pioneer in the use of AUVs (autonomous underwater vehicles) under sea ice, using multibeam sonar to map bottom features, work which he has also been done from UK nuclear submarines.
In 1990 he received the Italgas Prize for Environmental Sciences, and he has also been awarded the Polar Medal (UK) (1987) and the W.S. Bruce Prize of the Royal Society of Edinburgh. As well as being Professor at Cambridge he is an Associate Professor at the Laboratoire d'Océanographie de Villefranche and is a Professor at the Università Politecnica delle Marche, Ancona. He is a Member of the Finnish Academy and is a Fellow of the Royal Geographical Society.