Aberdeen Evening Meeting – New Underwater Tooling and Technologies
Sir Ian Wood Building - RGU
21 November, 2018
RETURN TO LISTINGS
Semi-Permanent Subsea Vehicles
Presenter: Steffan Lindsø – Director of Emerging Technology, Europe. Oceaneering
Presentation: Semi-Permanent Subsea Vehicles
Introduction to some of the engineering challenges and decisions that drives the development of the next generation of semi-permanent subsea vehicles. The presentation will use examples from Oceaneering's development of the FREEDOM vehicle as well as their remote piloted, battery powered E-ROV.
Solving Subsea Flow Assurance Challenges In Riser, Pipelines And Flowlines
Presenter:  Donald Ballantyne – Commercial Director,  Paradigm Flow Services
Paradigm Flow specialise in solving subsea flow assurance challenges in riser, pipelines and flowlines.  It has driven the development of new technology & tools to address these issues with creative deployment solutions from existing infrastructure and operational hubs.
Flexi Coil is a new technology that while innovative, has its roots in the principles of proven oilfield equipment and method.  It has been used to gain more production barrels from restricted & blocked pipelines without interruption to flow, decommission subsea pipelines without the need for DSV's and enable the safe running of pigs and ILI tools.
An overview of the technology will be accompanied by case studies and learnings.  The presentation will also give a brief insight into future developments that push the technology further and offer solutions to production enhancement and subsurface challenges.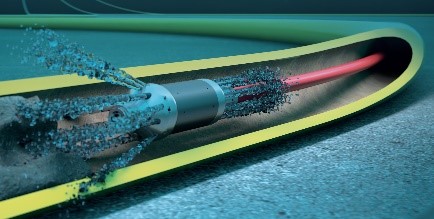 Fibre optic leak detection technologies and applicability in subsea environment
Presenter:Dr. Christpher Bridge – OneSubsea
Presentation: Fibre optic leak detection technologies and applicability in subsea environment
Automatic leak detection is critical to ensure safe operation of remote equipment. OneSubsea has developed technology to detect leak signals from pipelines and subsea equipment. We will present an overview of the approach to understand the physics of a leak and how we can apply this subsea.
Please note parking is free after 1600, click here for the campus map