SUT, THSiS & IMCA – Programme for 'Smart Operations: Driving a Lower Carbon Future' Seminar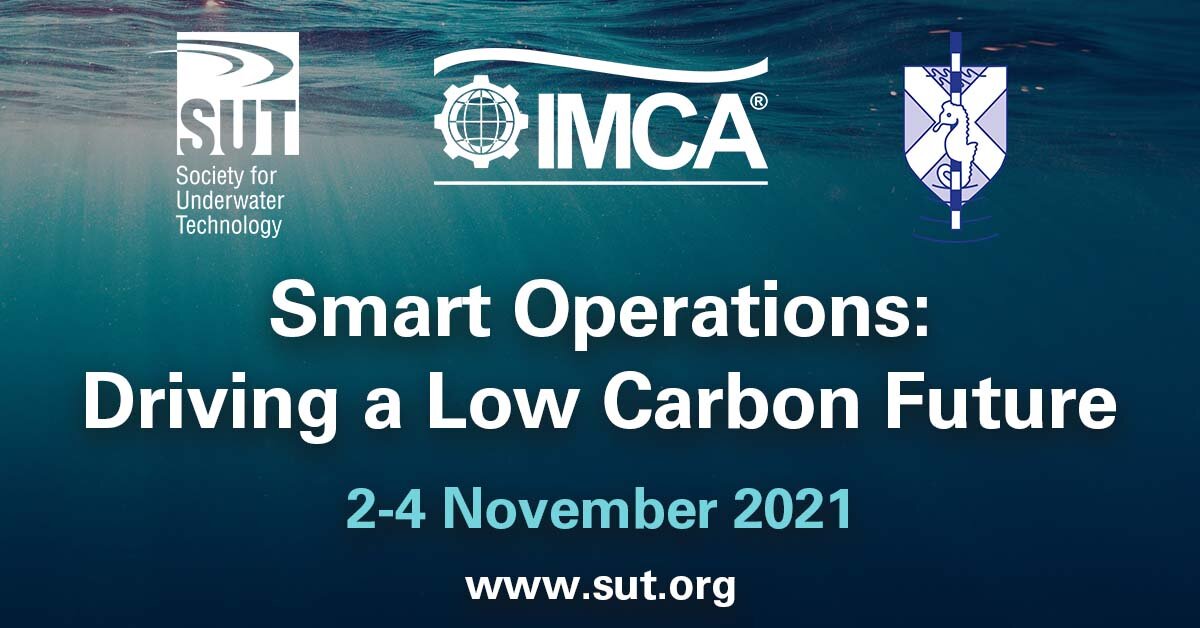 ---
Registration is now open for the joint 3-day 'Smart Operations: Driving a Lower Carbon Future' virtual seminar organised by the Society for Underwater Technology, The Hydrographic Society in Scotland (THSiS) and the international Marine Contractors Association (IMCA) and taking place on the afternoons of Tuesday 2-Thursday 4 November.
As Cheryl Burgess, CEO of the SUT explained:
"Our businesses continue to operate in mature regions – stable, predictable environments that can generate significant revenue. How we maximise profitability today is a significant contributor to funding lower carbon initiatives.
"Mature regions expect a reduction of large greenfield projects – with operator focus shifting toward smart operations: efficient exploration methods, short-cycle projects and lower OPEX. This promotes lower development costs, standardised infrastructure and increased utilisation during production costs down. Our challenge is to deliver development in the most efficient and sustainable way possible, maximising value today, tomorrow and in the future and this is just what our expert speakers will be talking about."
Day 1 concentrates on 'Subsea to Shore' with Ross Dornan of OGUK delivering a keynote address followed by speakers from IMCA, TP Group, and XOCEAN addressing 'Uncrewed surface vessels (USVs) are a fact, not science fiction, they are here and now!'; Mimicking Insect behaviour to optimise vessel operations'; and 'Asset inspection using uncrewed surface vessels – Delivering tomorrow's and future challenges today'.
On Day 2 attention turns to 'A Potential Difference – Subsea Power' with a keynote address by Gael Chouchelamane of EC-OG and speakers drawn from Teledyne, University of Houston; and EC-OG talking about 'Power for subsea applications'; 'Subsea power generation and storage using ionized static electricity'; and Driving a low carbon future – today, tomorrow & future'.
'Addressing the Big Issues – Decarbonisation' is the topic for the final afternoon of the seminar with speakers from Versatec, Houlder and OMV Petrom in the spotlight covering 'You have the information for data driven decisions, but you are not seeing it!'; 'Pathways to fleet decarbonisation for the offshore support sector'; and 'Normally uncrewed installations'.
The full programme and registration can be found online at www.sut.org/event/smart-operations-driving-a-lower-carbon-future-2021/. A 3-Day pass costs £30 for members and £50 for non-members (excluding VAT where chargeable). SUT Individual membership is £76 per year. To join, visit www.sut.org/sut-membership/ or e-mail jane.hinton@sut.org.