2019 Annual SUT + Newsletter
2019 was another great year for SUT+ with a series of successful company/site visits, seminars, workshops and not least, our annual pub quiz! Read on for a brief overview of 2019. We look forward to another successful year in 2020.
SVS Workshop
Our year kicked off in January with a warm welcome by SVS in Westhill. Attendees were given an interesting overview of their products, services and wider capabilities followed by information on recent projects and a tour of their facilities.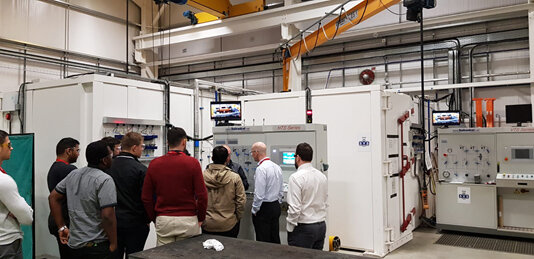 NASA in Aberdeen
We supported the annual NASA in Aberdeen week in March by organising a competition for primary school pupils to design and build a model robot for Mars. The pupils created some fantastic entries with the winners being selected by the NASA team, including ex-astronaut Carl Walz. Hundreds of primary school pupils were treated to some fantastic, inspirational talks by the NASA team throughout the week – talks which certainly inspired the SUT+ team too!
We also facilitated multiple stands at the public exhibition day, including a Subsea 7 simulator and Rever diving equipment which engaged both children and adults alike! We will be supporting the NASA in Aberdeen week again in 2020.
SUT+ Pub Quiz
Our annual pub quiz was held in March at a new venue for us, Spin on Littlejohn St. This ever-popular event was again well attended and good fun with some handsome cash prizes awarded at the end of night. We will be back to Spin for the 2020 edition!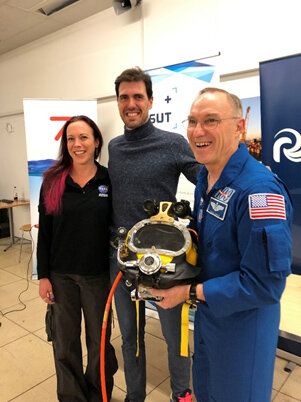 MATE ROV Competition
We supported the MATE ROV competition in April by providing a judge for the demonstration session at RGU. As ever, the mini-ROVs designed and built by the secondary school pupils were highly impressive – much young talent coming through the education system!
National Hyperbaric Centre Visit
We returned to the National Hyperbaric Centre in May, hosted by JFD, after our previous visit in 2017. The visit included an informative talk on diving and the use of hyperbaric chambers, followed by a tour of the hyperbaric chambers including plenty of interesting stories from throughout the history of this facility.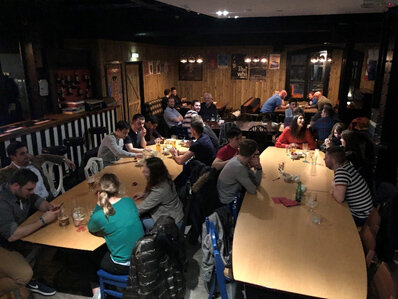 Chartership Workshop
Our annual chartership workshop was held in June at the Copthorne Hotel. This event was very well attended with attendees briefed on the chartership options from five institutions – IMechE, ICE, IMarEST, IET and Energy Institute. Attendees were also given the opportunity for one-to-one discussion with the institutions to review chartership evidence and provide interview advice.
Hydrasun Visit
Hydrasun welcomed us to their premises in Gateway Business Park in November where we were given an interesting overview of their product and service offerings before a tour of the workshop. Hydrasun have recently invested in a highly impressive new cabling machine which greatly increases their umbilical manufacturing capability.
SUT Christmas Lectures
SUT+ hosted the annual SUT Christmas Lectures event at the Music Hall in November – Oceans of Opportunity. Schools from all over Aberdeen and Aberdeenshire attended to provide a bumper audience for some fantastic talks on the wonders and depths of our oceans. Presentations were given by Marie Dare from MacDuff Aquarium, Nicol Paton from ROVOP, pupils from Keith Grammar School (winners of the regional MATE ROV competition) and Dave Smith from C-Tecnics.
Subsea Operations: Diver or Diverless?
We received some fantastic sponsorship from Subsea 7 which enabled us to hold a seminar on subsea operations, in collaboration with YPP Europe, at the Aberdeen Maritime Museum in November. Rob Rendall from Subsea 7 gave a great overview of diving operations followed by an interesting insight into ROV operations by Giuseppe Rizzo of Oceaneering. The lively audience engaged in healthy debate on the topic before exploring the museum's interesting exhibits.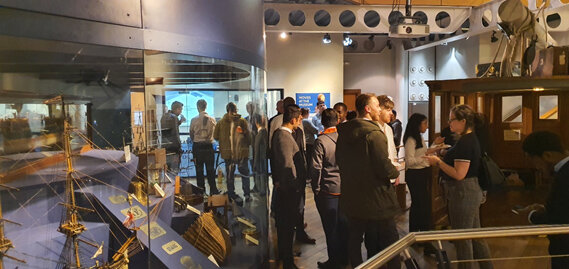 We are always looking for more people to get involved in SUT+. If you're in the early stages of your career, enthusiastic about the subsea industry and are looking to get involved in an industry organisation beyond your day job, SUT+ is definitely for you! Please e-mail us at sutplus@sut.org to find out more about becoming an SUT+ Champion.