2017 Annual SUT+ Newsletter
2017 has been a great year for SUT+ during which we organised a handful of interesting presentations, site visits and vessel visits with great turnouts. With the year drawing to a close, here is a quick overview of the major events coordinated by SUT+
Decommissioning Cycle
This event which was held in January, was by far our largest attended event of the year, perhaps not surprising given the high-profile decommissioning projects that have happened in the North Sea recently. It was organised in collaboration with the University of Aberdeen's new Decommissioning MSc and included presentations from Jim Christie (Head of Decommissioning – OGA), John Lawson (Senior Technology Advisor – Chevron & Pipeline Users Group), Scott Cameron (Business Unit Director – Subsea 7), Jessica Vleugel (R&D Engineer – Allseas), Innes Jordan (Subsea Engineer Decommissioning – Nexen) and Richard Neilson (Director of Research and Commercialisation – Aberdeen University).
NASA in Aberdeen
In March 2017, a collaboration between the Society of Petroleum Engineers Aberdeen Section, the Energy Institute, the Society for Underwater Technology, Techfest and the Aberdeen Science Centre, with support from SUT+ and industry sponsors, brought a NASA astronaut and a NASA space Scientist to Aberdeen for a week. The objective was to inspire the next generation of Engineers and Scientists.
Through talks, events and competitions during the week, 2000 school children and 1000 members of the public were reached with a powerful message that science and technology is an important field, and one they could be a part of.
SUT+ were proud to be a part of this event, and will be offering support to this initiative for 2018 and beyond as it grows from strength to strength.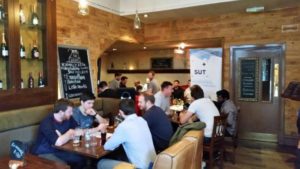 SUT+ Pub Quiz
Our annual pub quiz took place at Soprano Wine Bar and Bistro in April and was a great success. This event is always good fun and provided all attendees with the opportunity to network and also win some cash!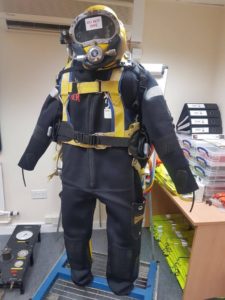 National Hyperbaric Centre Visit
The National Hyperbaric Centre is a place we have visited before and as always, they provided a great show. The visit in April included an introductory presentation on diving and the use of hyperbaric chambers in medicine. The attendees were also given a tour of the centre's hyperbaric chambers and control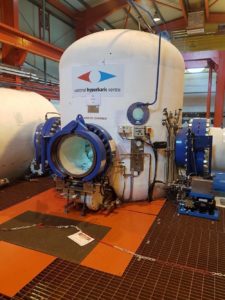 rooms where they learnt about hyperbaric technology.
OneSubsea Technology Day
The OneSubsea Technology Day in May provided attendees with the opportunity to learn about OneSubsea's Multiple Application Reinjection System (MARS).
ROVOP Visit
We visited ROVOP in June, ROVOP is another company that has welcomed us in the past and as always, their tour was excellent. The visit included a presentation, a tour of the ROV workshop and an opportunity for attendees to try out the WROV Schilling HD Simulator.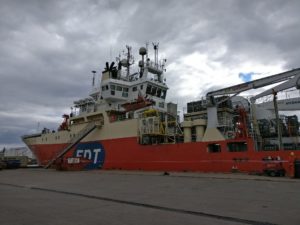 EDT Protea DSV Visit
Vessel visits are always popular events for us and our visit to the EDT Protea Dive & ROV vessel in September was no different. The visit included a tour of the vessel bridge, dive chambers, dive control room and lunch in the galley!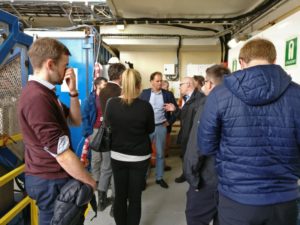 SUT+ Chartership Event 2017
Our annual Chartership event at the Rox Hotel in October provided attendees with the opportunity to speak to five professional engineering institutions about their Chartership process, including IMechE, ICE, IMarEST, IET and Energy Institute. Attendees were also given the opportunity to attend 'mock' interviews to help them prepare for the real thing.
Leaders in Industry
The Leaders in the Industry event took place in November and we were delighted to welcome Deirdre Michie (Oil & Gas UK Chief Executive), Colette Cohen (Oil & Gas Technology Centre Chief Executive) and Emily Middleditch (Lloyd's Register Head of Development Solutions) to present at Aberdeen University on their respective experiences in industry, and also the challenges of attracting women to STEM roles.
SUT Christmas Lectures
SUT+ hosted the Annual Christmas Lectures in November on the 'Oceans of Opportunity', where we had schools from all over Aberdeen and Aberdeenshire come and hear some fantastic talks on the wonders and depths in our oceans. We had Marie Dare from MacDuff Aquarium talk on everything from the Seashore to the Sea Floor, Nicol Paton from ROVOP tell us all about ROVs, school pupils from Keith Grammar present their winning results from the MATE competition (Marine Advanced Technology Education) and Hedda Felin teach us all about 'Energy Transition' and all the fundamental changes that are happening in our industry.
In 2018, we also have plans to run many events including the ever popular Vessel and Drill Rig Site visits, a Young Engineers Networking Event and a few other new interesting event ideas are in the pipeline.
We are always looking for more people to get involved in SUT+. If you are enthusiastic about the Subsea Industry and are looking to get more involved in an organisation outside of work then SUT+ is definitely for you! Please e-mail us at sutplus@sut.org to find out more about becoming an SUT+ Champion.
Have a great Christmas and a very Happy New Year!
See you soon in 2018!
SUT+