Marine Technologist Registration

Registration Home | Candidate Handbook | CMarTech | RMarTech | MarTech | FAQs | CPD Requirements | Apply
---
Apply Now to the Marine Technologist Register
Registration (Chartered, Registered or Technician status, depending on your level) is a globally recognised professional credential.
The Marine Technologist Register is open to everyone who can demonstrate the required high-level knowledge, understanding, and professional competence. There are many routes that can be measured to meet this standard, including a combination of academic awards, vocational qualifications, and experiential learning through work. Competence includes the knowledge, understanding, and skills that underpin performance.
View the SUT and MTS Register of Marine Technologists.
Application
To become registered, applicants must have their competence assessed by the Society as being suitable for CMarTech, RMarTech, or MarTech. The process of assessment starts with a written application. Claims to qualifications, experience, and training will require formal, documented evidence. In giving details of experience, applicants will need to show how this relates to the required competencies for CMarTech, RMarTech, or MarTech. Review the competency standards online.
Normally, formal education is an essential prerequisite for registration as it demonstrates the underpinning knowledge and understanding for professional competence. However, if the requisite educational credential is not presented, it is possible to demonstrate achievement through a combination of academic awards and/or appropriate experiential learning. Candidates applying through this route must clearly demonstrate that they have achieved the same level of knowledge and understanding, as those with the accredited qualifications. For example, a Bachelor's qualification supported by appropriate professional experience may be sufficient to demonstrate a Master's level knowledge. Candidates must respond to each of the Competency Standards with specific examples of how they have met each standard through experiential learning. Candidates should be careful to explain what was learned from each experience. The Education Equivalency Panel will consult with the Registrar on the evaluation of experiential learning.
For information on application fees and annual registration fees, please see our FAQ page.
Interview
Following a review of the documented evidence, the applicant will be required to undertake a professional review interview (PRI); note that only some MarTech applicants will be asked to participate in the PRI. The Society will inform the candidate of the necessary procedures. If deficiencies in the application emerge, the registrar will usually be able to suggest ways in which they can be addressed (this may involve further learning, training, or additional experience).
Registration Panel
Following the PRI, the application will be forwarded to the Registration Panel for a determination on the final disposition of the application. The Registration Panel ensures the process is fair, objective, and compliant with the high standards of the Registration program. If a candidate receives a positive decision on their application for Registration, they will become registered as a Chartered Marine Technologist, Registered Marine Technologist, or Marine Technician and their details will be included on the Society's Register of Marine Technologists.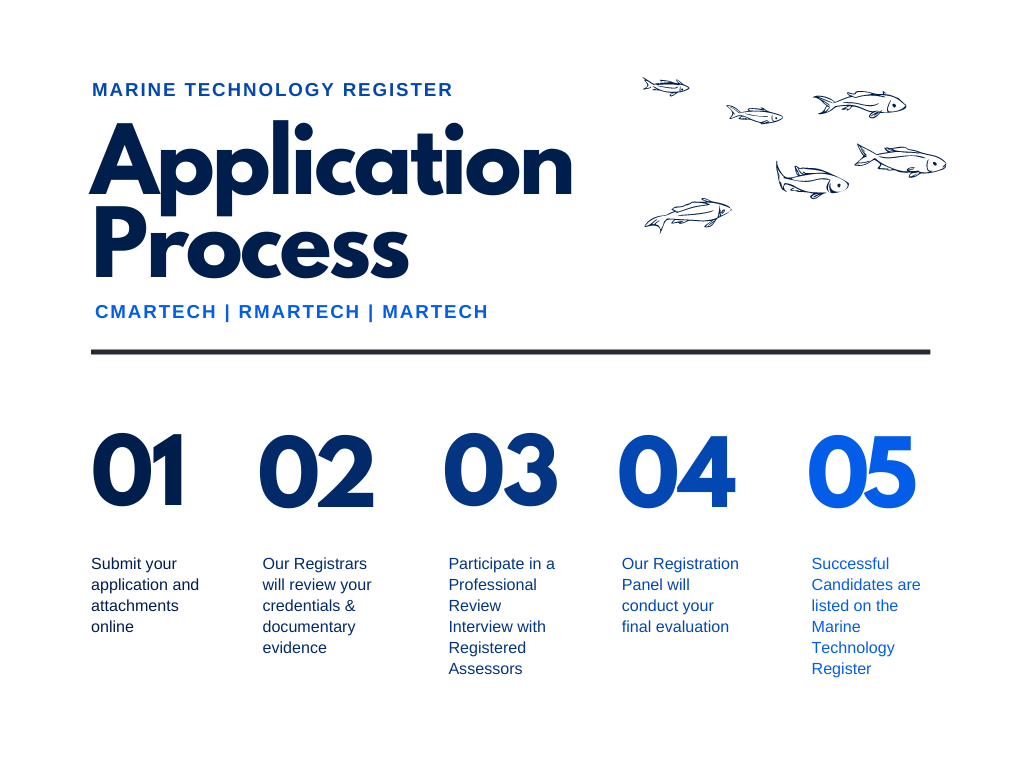 Continuing Professional Development
Retention of the designation will require continued membership in the Society, completion of professional development requirements, and payment of the required annual dues and credential subscription. Candidates may elect to become members of either or both Societies, according to their preference. Registered Members are required to maintain their professional competence, work within professional codes of conduct, and participate actively within their profession. There is also a requirement for continuing professional development (CPD). Review CPD Requirements online.
---
Required Forms
The Candidate Handbook includes detailed information on the application process and should be reviewed prior to online application. Applications must be submitted online for consideration.
Step 1: Gather evidence of your professional credentials. Identify an appropriate referee, a responsible person of standing in the marine community, who knows you and your work well (for example, your course tutor, a senior manager or officer at work, a corporate member of MTS/SUT). Ask your referee to fill in the Referee Form and to sign and date photocopies of your certificates as true copies of the originals. Upload the completed form online as part of your complete application.
Step 2: Complete the Professional Development Report Form appropriate to your registration category:
Learn more about the Professional Development Report Form – Top 5 Mistakes
Step 3: Fill out and submit your Continuing Professional Development Plan (CPD Plan). This document explores your future plans for professional development, following Registration. Please be reminded that Registered Professionals are expected to complete a minimum of eight (8) hours of CPD annually. See FAQs below.
Step 4: If you do not possess the requisite academic credentials, but you believe your career or professional experience will merit consideration, please fill out and submit the Career Appraisal Route Form with your application.
Step 5: Submit your application online, including all attachments.
---
Questions? View our FAQ page for more information or for assistance please contact registration@sut.org.
Registration Home | Candidate Handbook | CMarTech | RMarTech | MarTech | FAQs | CPD Requirements | Apply