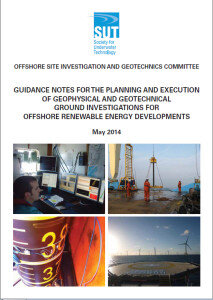 OSIG 2014 Guidance Notes
A new OSIG publication, "Guidance Notes for the Planning and Execution of Geophysical and Geotechnical Ground Investigations for Offshore Renewable Energy Developments", has been launched this week. The launch event was held on the evening of Monday 14 July, comprising of a brief introduction to OSIG and the work that it does by its Chairman, Andy Barwise (Gardline Geosciences). This was then followed by a presentation of the guidance notes by the Chairman of the OSIG sub-committee that produced the guidance notes – Mick Cook (MCL Consultancy).
The presentations were followed by a wine and finger buffet reception kindly sponsored by Lloyd's Register.
The Guidance Notes are available to buy online for £15 by clicking here, or you can download them for FREE by clicking here.