The Perth Branch of the Society for Underwater Technology (SUT) was formed in 2004. The SUT is a multi-disciplinary learned Society bringing together individuals and organisations with a common interest in underwater technology, ocean science and offshore engineering. It was founded in 1966 and has members from more than 40 countries, including engineers, scientists other professionals and students working in these areas.
We hold regular underwater technology seminars, courses and technical evenings through the year in and around Perth.  Currently we have 100 Individual, 40 Corporate, 17 Global, 4 Academic and 57 Student members in Australia.
Membership is one way of engaging with the SUT Perth Branch but for further information click here.
Click here to view Perth Branch Rules of Association
Click here to view Perth Branch Ethical Statement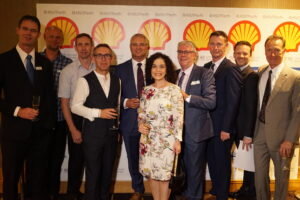 Photo: Several of our 2017 Committee Members at the Perth Branch Annual Dinner – November 2017